Building Regulation Changes in 2022 – Everything You Need to Know
In a bid to deliver net zero CO2 emissions by 2050, the UK government has announced a number of changes to current Building Regulations set to take effect in 2022. These include reducing the maximum number of CO2 emissions produced by certain buildings, as well as uplifts to current overheating, fabric and ventilation standards. But how will these updates affect you? Before we look at the potential impact, let's first unpack everything that has been announced and understand what exactly is set to change.
What are Building Regulations?
Building Regulations "set the standards in England for the design, construction and alteration of buildings". This includes everything from building stability, fire protection, insulation and heating. These measurements are in place for the safety and health of people who dwell in a building, as well as those surrounding it.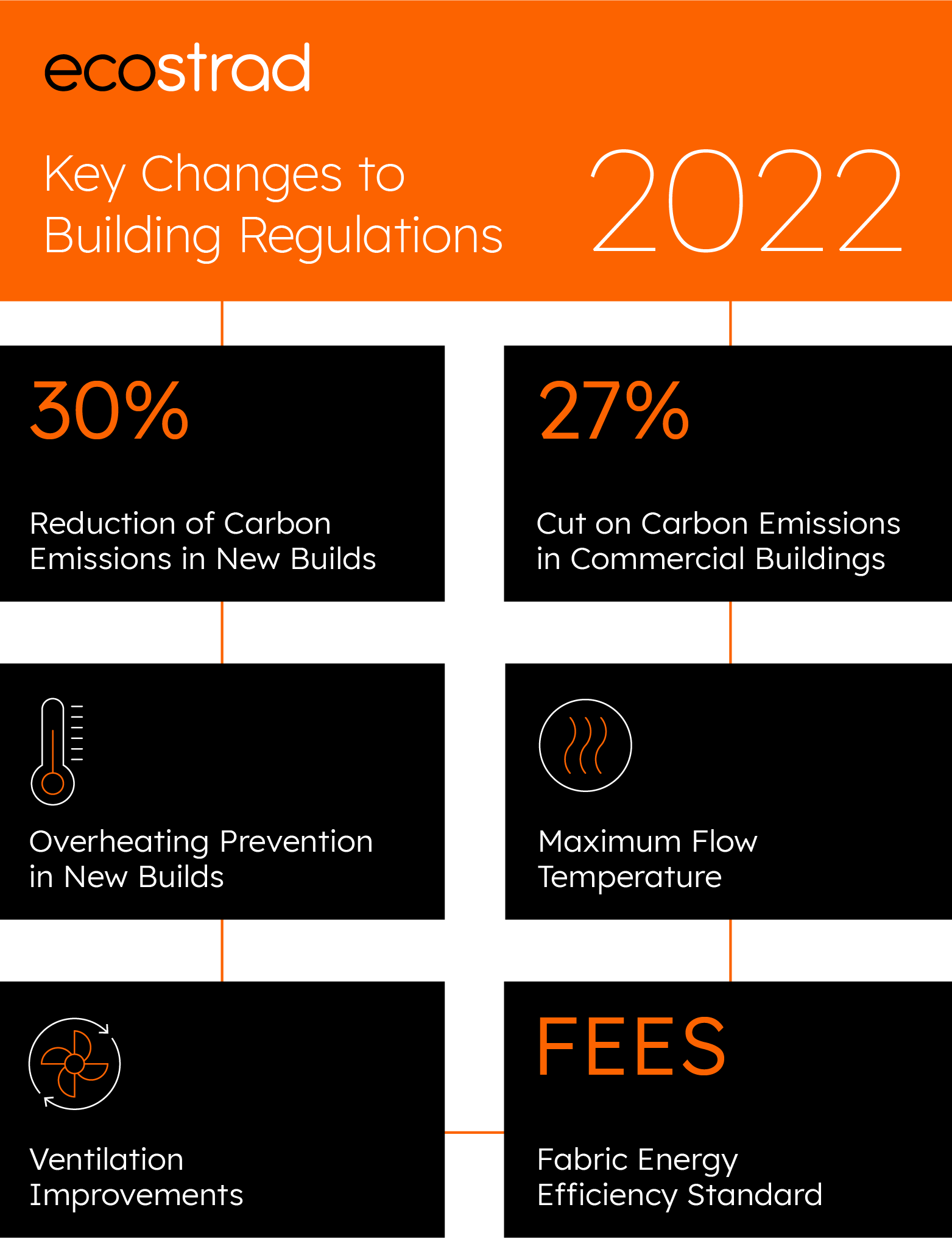 The Department for Levelling Up Homes and Communities (DLUHC) have announced key changes to Building Regulations set to take place in summer 2022. It's worth noting that whilst these inclusions apply primarily to new buildings, home renovators extending their existing property will also have to comply with the new standards.
The changes are as follows:
30% reduction of carbon emissions in new builds
This means that all new build homes must adopt low carbon technology to reduce CO2 output. A good place to start is with home heating – gas is the most carbon heavy system to adopt, so it's best to avoid altogether. Opting for a sustainable alternative, especially one that can be paired with a renewable energy source, will help ensure you're hitting the 30% carbon reduction target. Whilst heat pumps are often recommended, expensive installation fees could end up costing you a small fortune. Solutions like electric radiators are an ideal alternative, providing a DIY-friendly, affordable and maintenance free way to heat your building.
27% cut on carbon emissions in new non-domestic buildings
New non-domestic buildings, such as offices and shops, require landlords, homeowners and self-builders to lower CO2 emissions by using low carbon technology. The above advice also applies here – opt for an energy-efficient heating system that can be paired with home renewables to ensure new standards are met.
Overheating prevention in new residential buildings
Approved Document O is a new inclusion aiming to prevent new residential properties from overheating. To do this, there will be limits to how much glazing a building can have, limiting unwanted solar gains in the summertime. The change also intends to "provide an adequate means of removing excess heat from the indoor environment", namely through the use of sufficient cross-ventilation. New residential buildings required to adhere to this new standard include homes, schools, student accommodation and care homes.
Improvements to ventilation
An uplift to Part F sets increased standards of ventilation in new homes, intending to protect residents living in these dwellings. Poor ventilation causes a myriad of issues, from damp and mould to the degradation of building fabric, so these proposed improvements will help combat such safety and health hazards. Precautions include having your kitchen fitted with an extract ventilation system that operates on a minimum intermittent extract rate – an effective way to combat water vapour and indoor air pollutants. These improvements also apply to new extensions built on historic and traditional dwellings, as well as new non-residential buildings.
Fabric Energy Efficiency Standard (FEES)
The FEES is another way of measuring the energy efficiency of new homes and buildings as well as extensions and work carried out on existing homes and buildings. Increased standards for fabric impact the installation of roofs, walls, floors, windows and external doors, safeguarding buildings with good quality building fabric to boost efficiency.
Maximum flow temperature requirement of 55°C
All new and replacement heating systems should run at a maximum flow temperature of 55°C to ensure warmth is distributed evenly, for optimum efficiency.
Summary: Through better insulation, improved materials and low carbon technology, new buildings and some existing properties will be running on a higher level of energy efficiency, "paving the way" for the 2025 Future Homes and Buildings Standard (the boiler ban). Whilst not a requirement, these changes also encourage the adoption of more sustainable heating systems, such as heat pumps or electric heating, set to take precedence in the future.
Updates to Building Regulations are intended to help the UK reach net zero CO2 by 2050 in a collective effort to combat climate change. Together with the 2025 Future Homes and Buildings Standard, these changes are designed to keep us on track when it comes to a low carbon future. Housing Minister Eddie Hughes said:
"the changes will significantly improve the energy efficiency of the buildings where we live, work and spend our free time and are an important step in our country's journey towards a cleaner, greener built environment."
Changes to Building Regulations come into play on 15th June 2022. From that point, all buildings must comply with the updates, unless applications have been submitted and approved by local authorities prior to that date.
What does this mean for you?
What does this mean for you? All buildings must comply with the updates, unless applications have
been submitted and approved by local authorities prior to that date.
If you're planning on buying and letting out a new build after June 15th 2022, you must ensure that new energy-efficiency standards are met before you rent out the property. It's crucial that you consult a new build conveyancing solicitor who will carry out the necessary checks before you purchase. This advice also applies to homeowners set to buy a new build next year.
When it comes to existing buildings, it's worth noting that changes to Building Regulations come into play when additional work is being carried out, such as retrofitting or adding an extension. For example, renovators wanting to build a granny-annexe onto a detached property must send an application to their local building control team before they start the work. We'd recommend thinking about maximising the efficiency of the extension, perhaps by opting for a low-carbon heating system or installing doors with a low U-value (reducing the chance of heat loss).
These changes also impact self-builders who must keep energy-efficiency in mind during the planning stages of construction work. Besides ensuring the building is equipped to prevent overheating and ventilation issues, it's also best to consider installing an energy-efficient heating system, preferably one that can be paired with home renewables, like solar panels.
Energy-efficient heating – it's time to go electric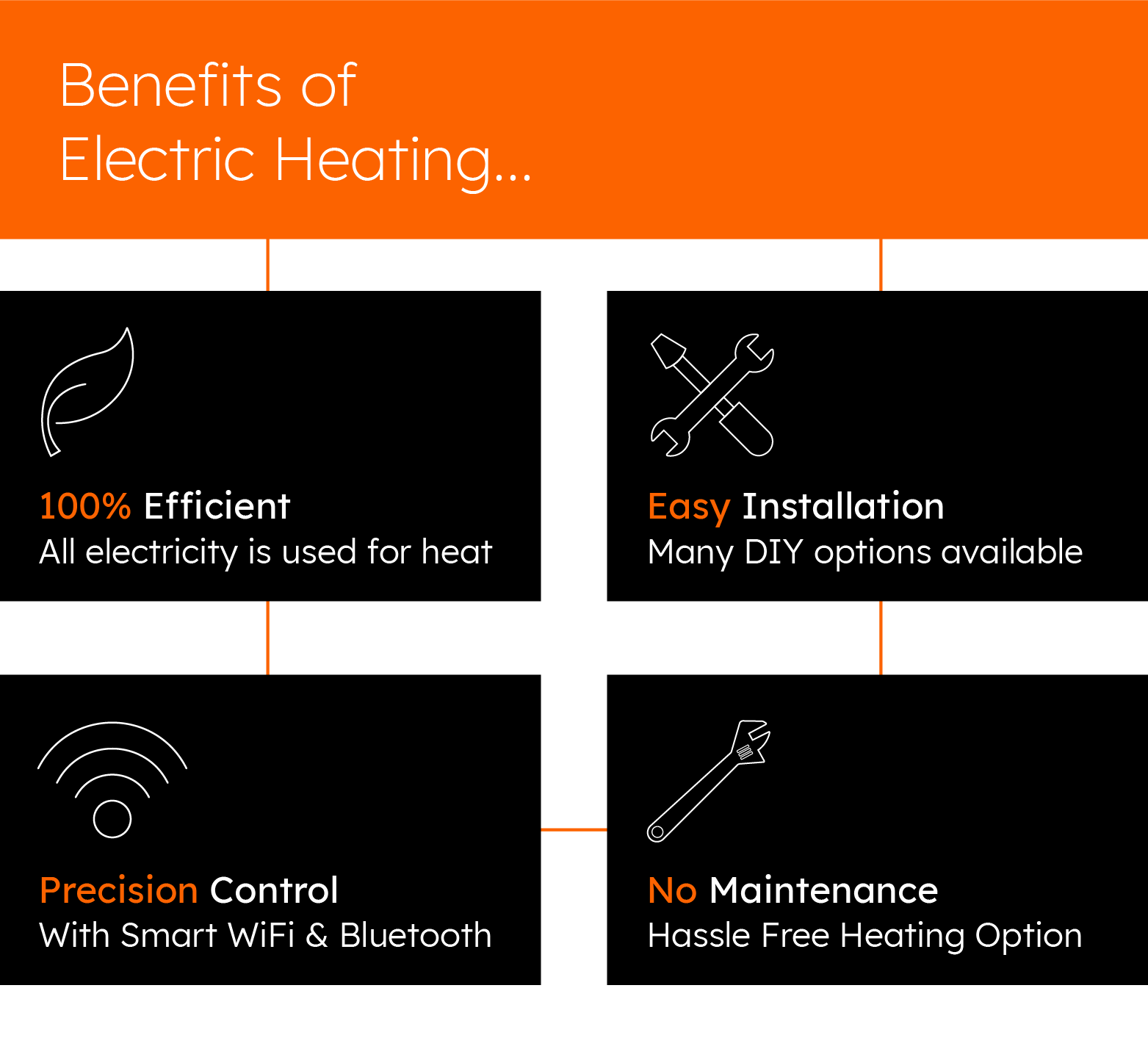 A simple way of ensuring your building reduces its CO2 emissions is by installing an energy-efficient heating system in your property. When it comes to "cleaner sources of heat" that the government are willing us to adopt, electric radiators are a popular, convenient and sustainable choice for many. Let's take a look at their main advantages:
100% efficient: every watt of electricity drawn from the wall is converted into usable heat, meaning nothing is wasted.


Radiation & convection: producing responsive warmth that lasts long after the radiator has stopped drawing power from the wall, these heaters warm the surrounding air as well as people, objects and surfaces directly, for maximum efficiency.


Easy installation: many electric radiators are DIY-friendly, so you won't need to worry about having your pipework extended, ideal for landlords and homeowners alike. We always recommend opting for hardwired installation which is carried out by a contractor – a quick and easy task for the professionals.


Exceptional controllability: from smart WiFi control to precise digital thermostats, electric radiators make heat management that much easier, often letting you program your heating system on a 24/7 basis, so energy won't be wasted warming rooms that aren't in use.


Safety guarantee: with no risk of carbon monoxide leaks and Low Surface Temperature (LST) options available to prevent overheating risks, electric radiators allow you to keep your property warm with total peace of mind.


Versatile aesthetics: whether you want to build garden office or renovate the spare room, electric radiators are available in a vast array of finishes and designs, so you're sure to find a solution that integrates neatly into a variety of spaces and décors.


Opt for carbon free warmth with electric heating
Considering the new changes to Building Regulations, now has never been a better time to opt for a low carbon heating system like electric radiators. Intuitive, stylish and highly efficient, they make an ideal choice for any property or interior. With DIY-friendly fitting and zero maintenance required, these heaters are as hassle-free as they are convenient. So, make the switch today and browse our full range of premium electric radiators now.