Electric heating – the perfect solution for garden offices
Whether you're adding a new garden office to your rental property, or your home office needs an upgrade, finding the perfect heating solution for these spaces is essential. Electric heating is the ideal way to keep any WFH space warm throughout the year and with Ecostrad's extensive range of products, combating the chill in these hard-to-heat areas couldn't be easier. So, why is electric heating the best choice and which product should you choose? We answer all of these questions and more to help you make the best decision for your garden office.
Benefits of electric heating for garden offices
Electric heating is a prime solution for your garden office due to several factors, including:
Energy-efficient warmth: all electric heating solutions are 100% efficient at point of use, meaning every watt of energy drawn from the wall is converted into usable heat.
Easy installation: with no plumbing necessary, most of our electric heaters are DIY-friendly and compatible with wall-mounting or freestanding fitting, offering optimal flexibility. Whilst many of these solutions may require professional hardwiring, this is usually a quick and easy job for an electrician.
Zero maintenance: no risk of carbon monoxide leaks removes the need of an annual safety check which will save you time and money in the long-run.
Vast array of options: Ecostrad electric heaters are available in a wide range of sizes, with varying wattages to suit every type of garden office space, for ultimate versatility.
Why smart heating is ideal for garden offices​
WiFi connectivity lets you control heating from anywhere in the world – simply download a compatible app, like the Ecostrad Ecosystem app, to start managing warmth from your smartphone. Use the app to create a custom heating schedule that can be tailored and amended to match any routine, keeping the garden office warm right when it needs to be. The Ecostrad Ecosystem app also eliminates centralised control, allowing garden rooms to be heated independently of the rest of your property, all with a simple drag and drop action using a smartphone. Some Ecostrad WiFi heaters even offer intuitive voice control, enabling hands-free heat management – perfect for busy workers who want to make effortless adjustments.
Best electric heaters for garden offices
Infrared heaters – Ecostrad Accent iQ
Without relying on air to transfer warmth, infrared heaters like the Accent iQ supply robust radiant heat that travels in a wave before being absorbed by people and objects, providing a deeper level of warmth that isn't easily lost to winds and draughts. This type of heater is ideal for garden offices that may not be well insulated, such as a lofty renovated shed come workspace. Ultra-slim and DIY-friendly, the Accent iQ is also unobtrusive and can be neatly wall-mounted, above a bookcase or chest of drawers, without eating into your space.
Top 3 Features
Integrated WiFi control
Digital thermostat accurate to 5 °C
Easy wall-mounting
The Accent iQ is equipped with a number of features that optimise convenient control. Its precise digital thermostat accurately tweaks the temperature to ensure a room is never under or over heated and its built-in WiFi connectivity allows for intuitive programming through the Ecosystem app. For hands-free heat management, simply pair the Accent iQ with Amazon Alexa or Google Home Assistant to start adjusting warmth via quick and easy commands, without interrupting your workflow.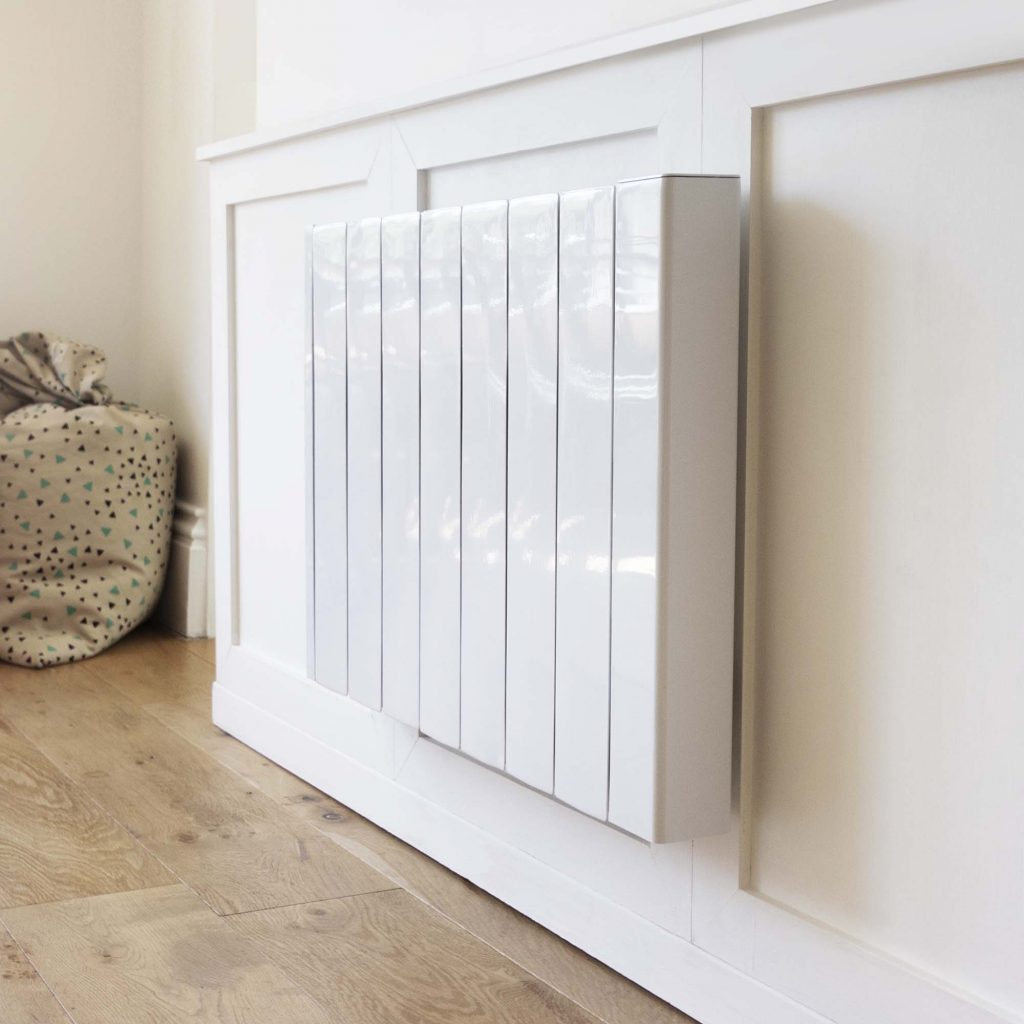 Electric radiators – Ecostrad iQ Ceramic
Unlike infrared heaters, electric radiators heat on two fronts – through convection and radiation. When it comes to the iQ Ceramic, around 50% of warmth is produced through radiation, with the other half being delivered via convection, which quickly raises room temperature by heating the surrounding air. This combination provides deep yet responsive warmth that can be felt within minutes. Paired with the iQ Ceramic's heat-retentive ceramic plates, warmth is felt even after the radiator has been switched off, maintaining heat levels and maximising efficiency.
Top 3 Features
Ceramic stone core
Motion detection mode
WiFi compatibility
The iQ Ceramic is built with convenient control in mind. From smart WiFi control to a silent TRIAC thermostat that doesn't click when it activates, this heater lets you enjoy straightforward heat management that doesn't disrupt work sessions. It even comes with sophisticated motion sensor mode – a set & forget feature that automatically turns the radiator on/off based on movement, intuitively adapting your heating without need for manual adjustment. Complete with an elegant aesthetic, this bestselling radiator is also compatible with wall-mounted or freestanding installation when purchased with attachable feet, so you have the option to move the heater into your main property once you're ready to turn in for the night, for exceptional flexibility.
Work in comfort with our electric heaters
Versatility, deep warmth and intuitive control are just some of the shared characteristics that make infrared heaters and electric radiators an ideal choice for any garden office. If you're room is poorly insulated, an infrared heater like the Accent iQ is perfect due to the durable radiant warmth it supplies. For well-insulated spaces that are occupied for long periods of time, electric radiators are a prime option, delivering highly responsive warmth that lasts. Whichever heater you choose, Ecostrad offer an array of heating solutions that are sure to bring comfort to any workspace.