The Ecostrad Ecosystem App – Everything You Need to Know
The Ecostrad Ecosystem app was designed to meet the needs of an evolving market – as more people make the switch to electric heating, we understand there's more of a demand than ever to bring speed and convenience to the forefront of heat management. Overstepping the limitations of manual and Bluetooth control, Ecosystem is an innovative heating app wrapped in one sophisticated package – accessible from anywhere with a WiFi connection. Simply give your smartphone a tap, drag or swipe to make instantaneous adjustments to any and all of your Ecostrad smart heaters. For absolutely everything you need to know, read on as we go over all of Ecosystem's cost-cutting and energy-saving features.
Ecostrad Ecosystem: A closer look at our home-grown heating app
Effortless navigation
Our designers focused on an interface that's both attractive and prioritises ease of use. The hub manager's helpful on-screen guide allows you to match your appliances in seconds using the list of Ecostrad electric heaters. Access temperature settings using intuitive slider functions and navigate an uncluttered user interface with everything you need accessible from the homepage, for ultimate seamlessness.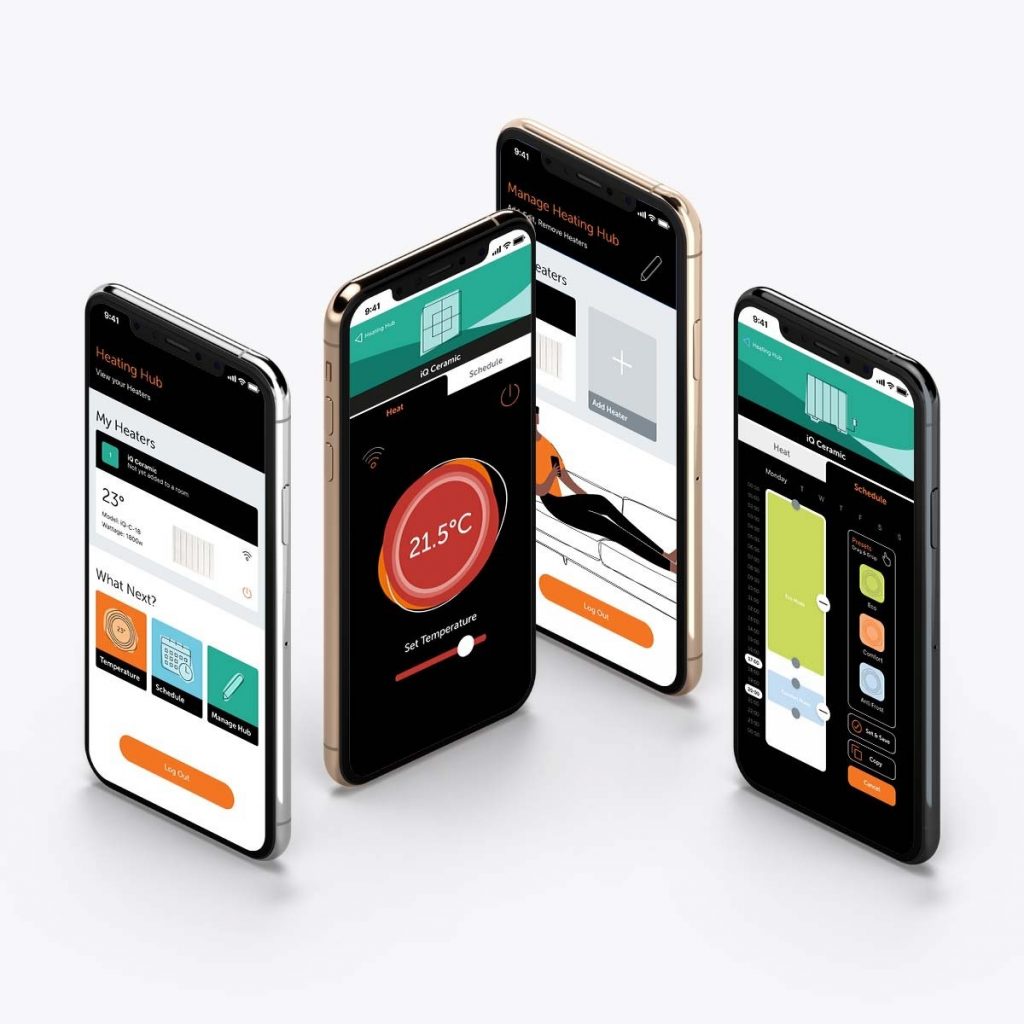 Heat management on the go
Employ full programming capabilities from anywhere in the world. With Ecosystem, adjusting your appliances is not limited to manual or short-range control: make tweaks whenever and wherever you are. Whether you have a vacant holiday let that needs Anti-Frost mode enabled, or a rental property that requires a heating boost in time for a viewing – the Ecosystem app can do all that and more.
Voice control
Properties with an Amazon Alexa or Google Home voice assistant can have their heaters connected with Ecosystem. As the Ecostrad heaters can be named to whatever the user sees fit, adjusting the temperature or turning the heater on/off just takes a quick voice command without the need for specific phrasing, for effortless hands-free management.
Account sharing
Access the same account on multiple smart devices. Allow a more seamless experience for guests and renters by giving them shared access; you'll always have full transparency of the amount of energy being used while signed into Ecosystem.
Have the final say
The Ecosystem app has been designed to give users the final say over settings: the app will send commands at the specified schedule or whenever momentary adjustments are made. Even if the radiators' thermostats have been manually changed, the programming made on Ecosystem will always take precedence, allowing those with the app ultimate control over their appliances.
Ecostrad Ecosystem: A deep dive into all its features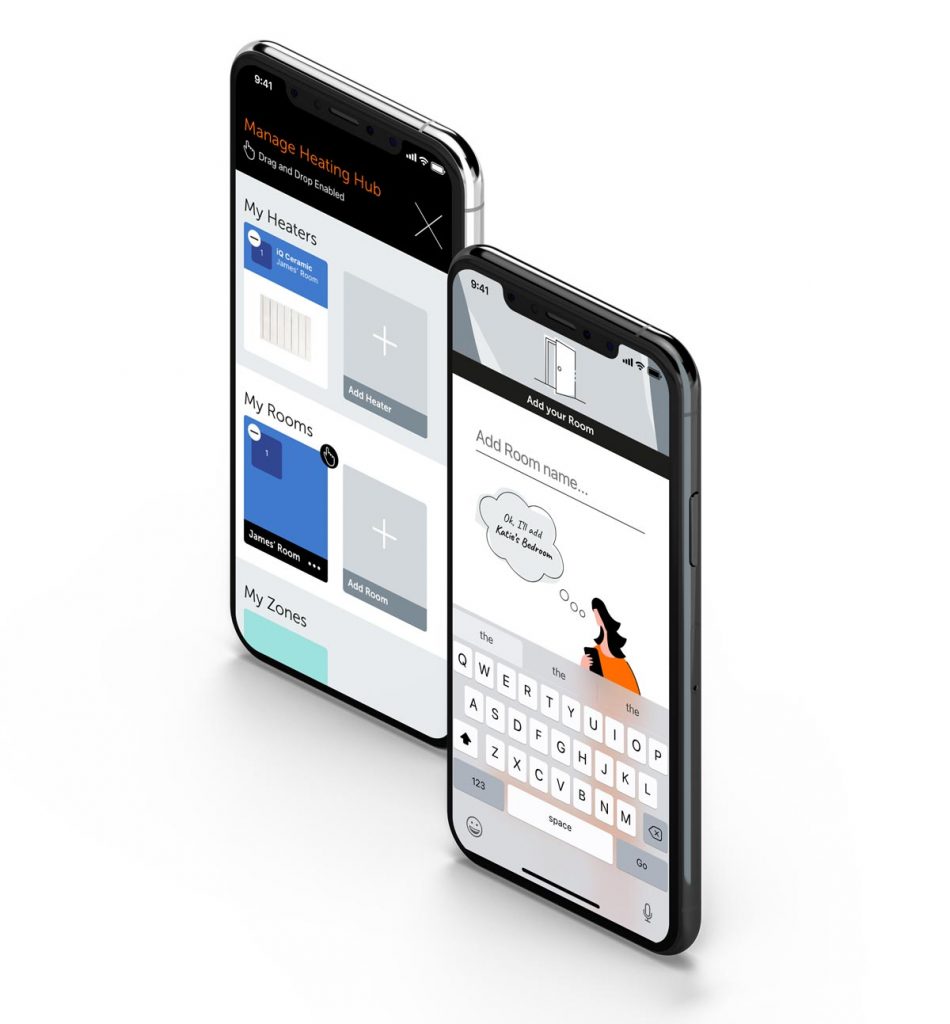 Program heaters individually or enable zone heating
Unique to the Ecostrad Ecosystem, having all your Ecostrad heaters linked to a single point of use allows for optimal heat management. Being able to program your entire system from the palm of your hand, even when you're on the go, is ideal for any property – especially one that may not be used for personal heating. A commercial space can have its interiors sorted into assigned heating zones to prioritise footfall, and bathroom and patio heaters can be programmed on an individual basis to reflect sporadic use. Whatever your preference or your property's needs, the app's UI permits micromanaging as well as a set-and-forget approach.
At a glance
Add rooms or group heaters together and label them to your preference.
Appliances can be programmed to the same schedule or adjusted separately.
Choose a custom picture for your heaters and zones to make them easier to find.
Rarely used rooms can either have their heaters turned off or set to an eco-friendly mode for cost-effective heat management.
24/7 scheduling that can be adjusted in seconds
Hourly, daily and weekly scheduling: the Ecostrad Ecosystem app allows users to assign 'blocks' with whatever temperature or heating mode required. Reuse settings using the handy interface or make by-the-minute decisions with a few quick taps of your smart device.
At a glance
Schedule your heaters using the smooth slider function.
Copy and paste your settings over multiple days.
Use the visually responsive temperature controls to quickly boost your temperatures outside of their normal schedules.
Organise your schedule or heating boosts with voice commands when inside the property.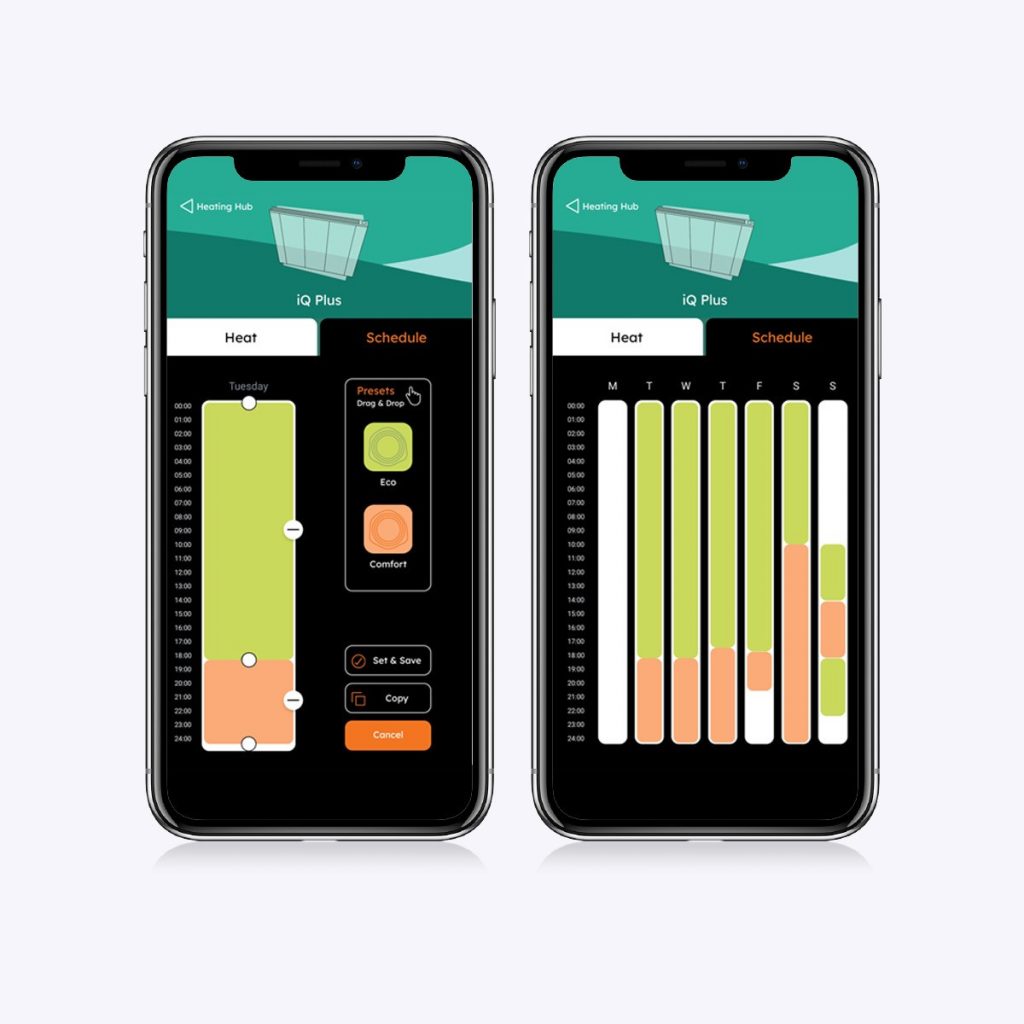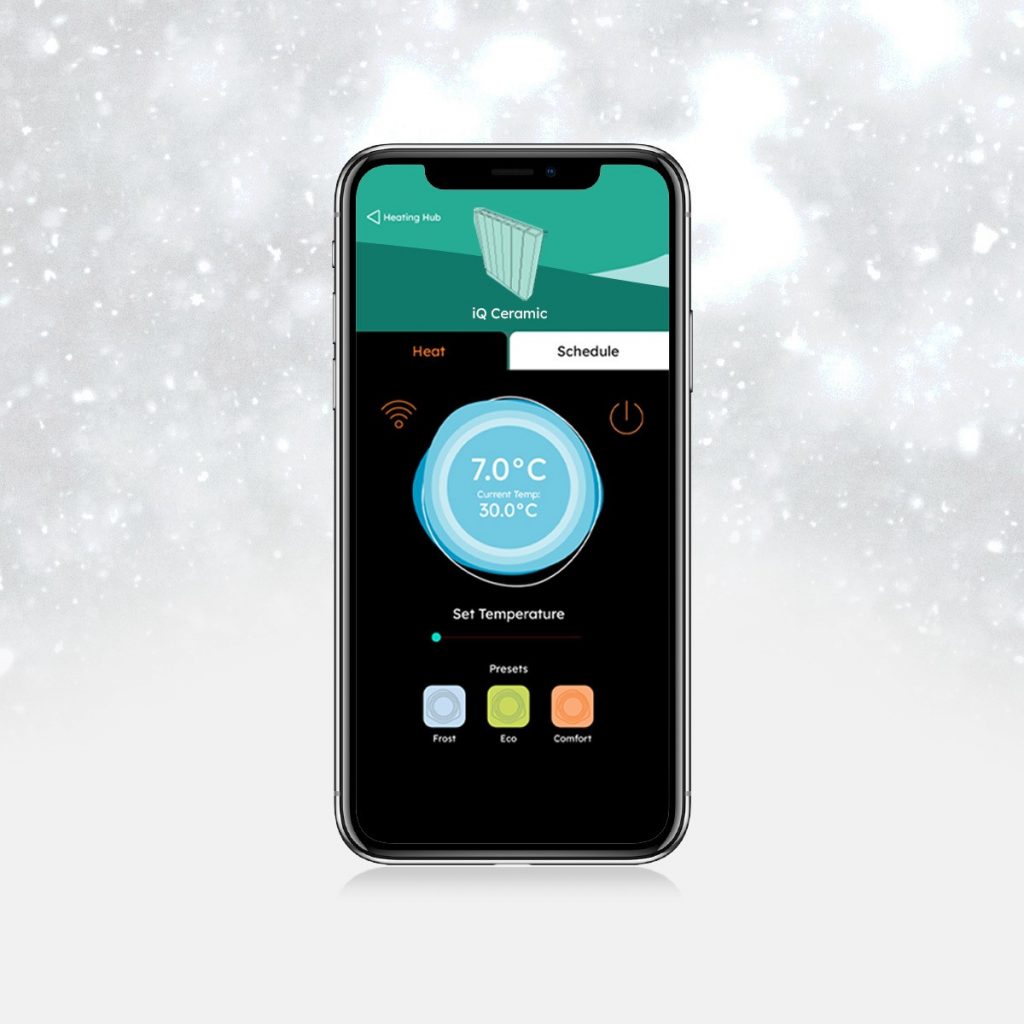 Select an alternative heating mode with a single tap
Assign one of three heating modes either as part of the heaters' schedule or as a momentary adjustment. Ecostrad heaters like the iQ Ceramic have the capacity to autonomously activate these modes as part of their energy-efficient programming – adjusting or deleting the app's schedule allows your heaters to act more independently. However, keeping the app-run timetable allows you to see temperature and energy usage in real-time, so you can make remote corrections whenever necessary.
At a glance
Comfort – The radiator heats to a constant set temperature between 7-30°C. The thermostat measures the room temperature and turns the heating elements on and off accordingly, keeping rooms at desired heat levels.
Eco – This mode works similar to Comfort in that the radiator heats to a set level, although Eco mode is designed to be set to a lower temperature, providing an energy-saving alternative.
Anti-Frost – Great for vacant rentals or holiday lets; set this mode for rooms that remain empty for long periods. At a set temperature of 7°C, Anti-Frost triggers when temperatures drop excessively, keeping the room warm enough to prevent pipes from freezing.