Meet the New iQ Ceramic in Black
Our bestselling iQ Ceramic has been an Ecostrad staple for years. Embodying all of the features we deem essential in quality electric heating – smart control, simple installation, energy efficiency, and affordability – the iQ Ceramic has been a gateway product to the world of electric heating for many businesses and homeowners. Such a classic deserves a revamp every now and then, and this October, Ecostrad launched the iQ Ceramic in black. A sleek slate black finish provides a welcome style refresh, but its internal features are just as cutting-edge as the original.
Whilst white radiators remain the timeless, traditional choice, the iQ Ceramic in black embraces the boldness associated with darker interior accents. With an RAL colour of RAL7021 – a slightly softer shade of black – this version of the iQ Ceramic is subtly striking, and its powder coated finish brings a welcome aesthetic delicacy.
Adding texture to lighter walls and intensity to darker ones, it makes a perfect addition to both commercial and domestic spaces looking to elevate their heating to a style statement, rather than simply a property essential.
Ecostrad iQ Ceramic - the whole package
Whilst its externals have had a redesign, the iQ Ceramic in black features all the same dependable, tried-and-true features that make the original so comprehensive.
Features at a glance:
Motion Sensor Mode
WiFi control – no external hub required
10-14 Years Manufacturer's Warranty
Completely Lot 20 Compliant
Plug-in compatible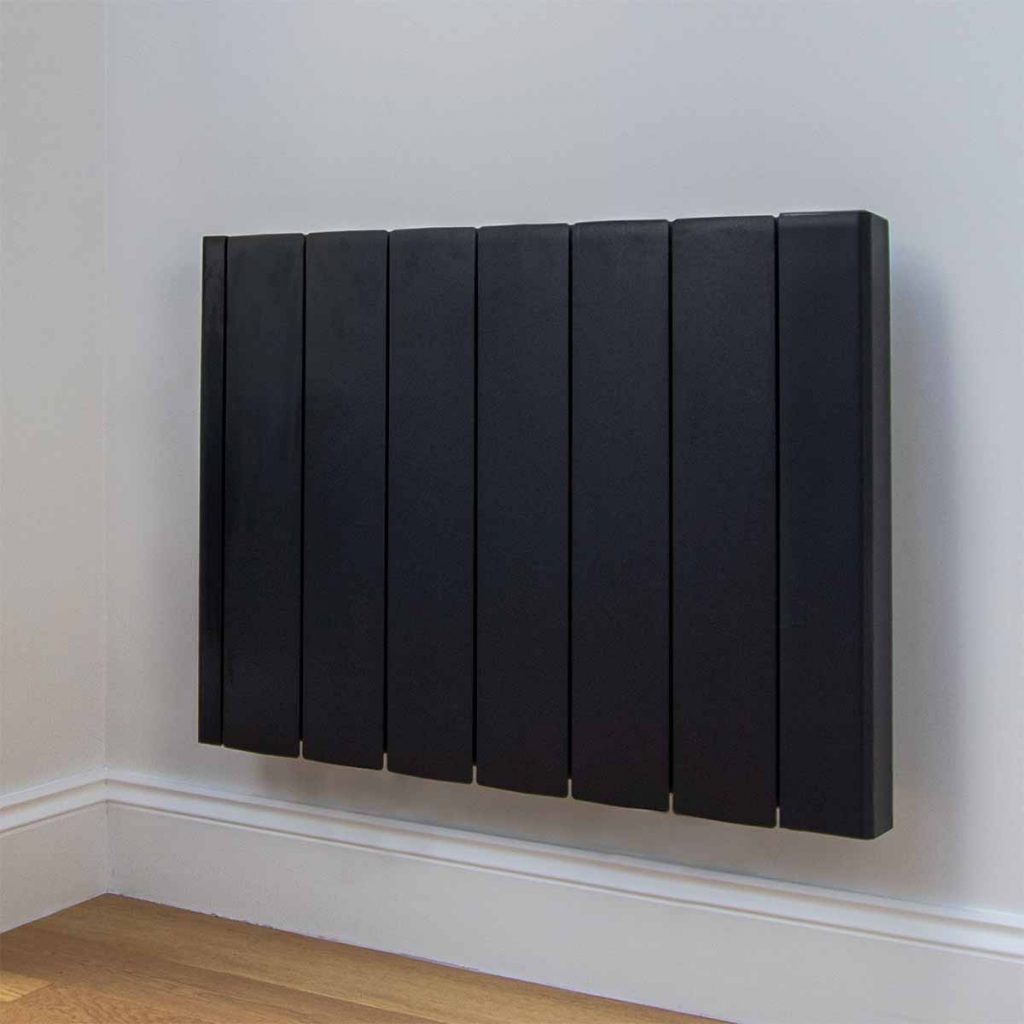 Unrivalled heating technology
The iQ Ceramic boasts a lightweight, slim design, with an aluminium casing and a ceramic stone core. Internally, the iQ Ceramic's heating elements are baked in a series of ceramic plates – molecularly dense, these plates are built to absorb all generated heat, locking it in for longer.
Ceramic electric radiators are well-renowned for their high energy efficiency. When a well-manufactured ceramic electric radiator is switched off at the wall, it will continue delivering the residual heat locked in at the core of its ceramic plates.
Supplying 50% of their heat output through radiation, and the other 50% through convection – ceramic electric radiators are a particularly robust and long-lasting heating source. Convection heats the air, whereas radiant warmth sinks in below the surface of people and objects, keeping them warm on a deeper, more thorough level. Warming the whole room, its occupants, its walls, and the air itself – ceramic electric radiators are one of the most all-encompassing and efficient heating options on the market.
The iQ Ceramic range offers two methods of heat control, so users can choose the one that best suits their needs, or mix-and-match between the two.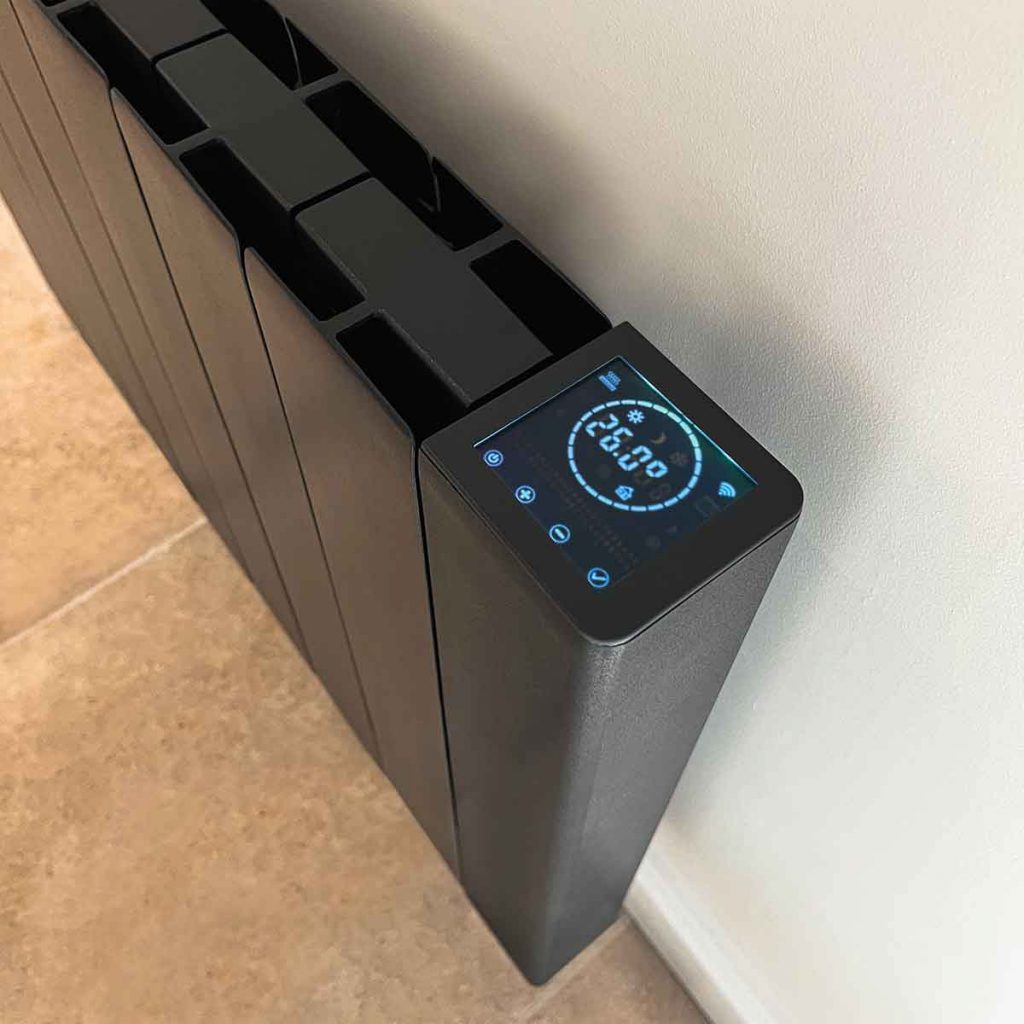 The iQ Ceramic can be controlled manually through its backlit touchscreen interface. Situated on the top panel of the unit, it is easily accessible and visible, allowing for control in both standing or sitting positions – there's no uncomfortable bending down necessary. The touchscreen is silent in operation except when turning on and off and dims completely to black.
Benefits of touchscreen control with the iQ Ceramic:
Easily accessible when in distance of the unit
Simple-to-use – minimal tech know-how required
Changes made within seconds
For more detailed and advanced control, the iQ Ceramic comes with in-built WiFi app compatibility for heating management on the move. Unlike some smart electric heaters, the iQ Ceramic's WiFi control is built into the unit itself – so there's no need to purchase any extra hubs or controllers to activate this feature. All that's needed is the radiator, a smart device with a compatible app, and a stable WiFi connection.
Pairing with either the Ecostrad Ecosystem or Smart Life app, the iQ Ceramic's WiFi control enables users to create personalised 24/7 schedules in an easy, colour-coded manner. All settings can be changed ad hoc, from anywhere in the world when connected to WiFi – an ideal situation if you do not personally reside in the properties you wish to manage.
Benefits of WiFi control with the iQ Ceramic
No additional hubs or controllers required
Changes can be made from anywhere when connected to WiFi
A more intuitive way of managing heating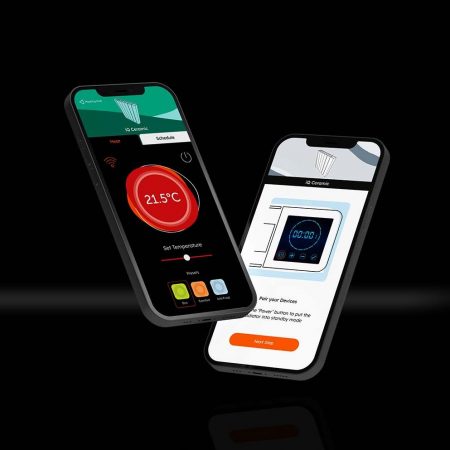 Motion sensor mode
Sensor mode is a clever feature that monitors when a room is occupied and adjusts the heater's temperature accordingly. Particularly useful for users with busy schedules or those unable to plan in advance when properties will be in use, this handy feature does all the detailed programming for you.
Silent TRIAC precision thermostat
Featuring a TRIAC precision thermostat accurate to ±0.5 °C, any temperatures set for the iQ Ceramic will be delivered within that small boundary. Jutting out away from the heater body, the iQ Ceramic's thermostat measures the ambient temperature of a room itself, not the heater – leading to a highly accurate reading.
24/7 programming
If your property's day-to-day schedule is more concrete, setting up a daily timetable in-app or on the iQ Ceramic's touchscreen is a breeze. Specify particular temperatures, certain modes, and exact timings so your energy usage accurately reflects your energy needs.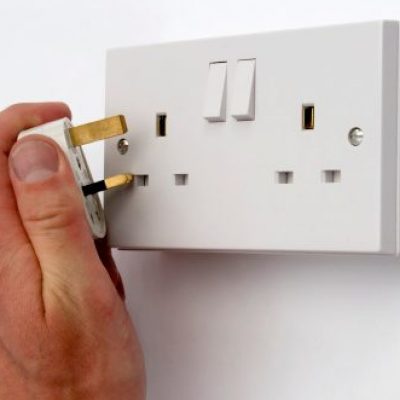 The iQ Ceramic was designed to slot in seamlessly with a wide variety of properties. As such, DIY-compatible installation was non-negotiable. With the iQ Ceramic, and all of our electric heating products, there is no extension of plumbing or pipework necessary – avoiding any expensive upheaval costs. All required templates and brackets are included in the box.
If you're planning on kitting out an entire property with electric heating, we always recommend a hardwired fitting, to avoid overloading the ring main. This is a simple, straightforward job for a qualified electrician.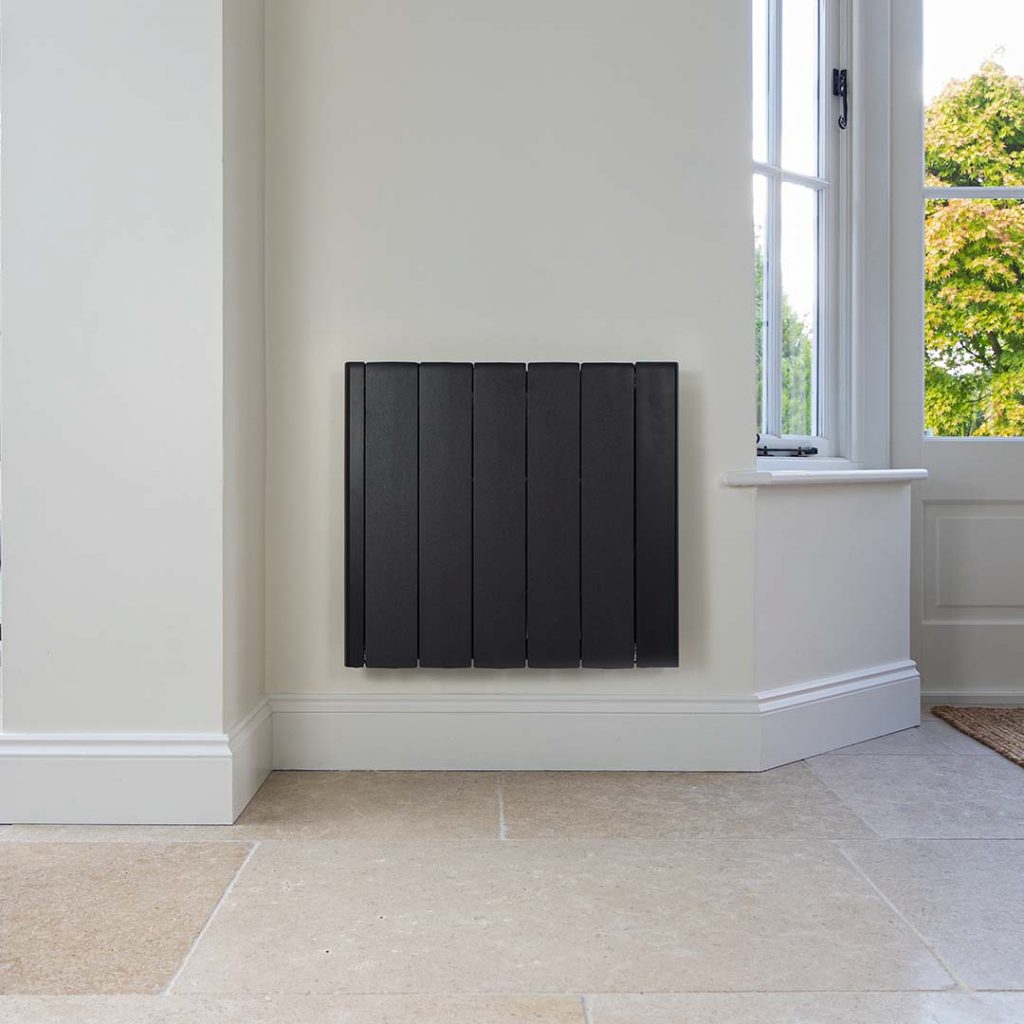 10-14 Year Manufacturer's Warranties: Robust warranties back up the exceptional quality of our products, and the iQ Ceramic in Black is no different.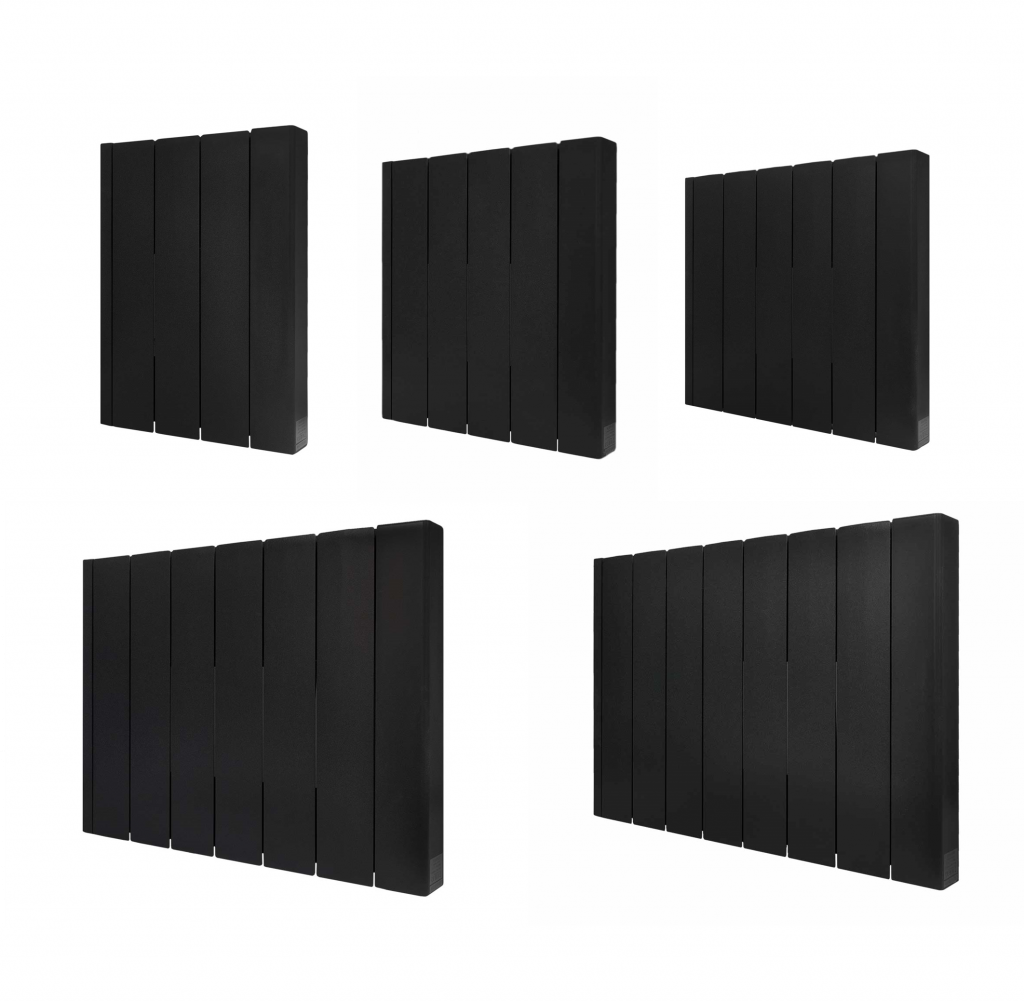 A range of sizes and wattages: Heating spaces from 5.5 – 24.5m², and wattage options between 500w and 2000w, there's an iQ Ceramic perfect for your specific space.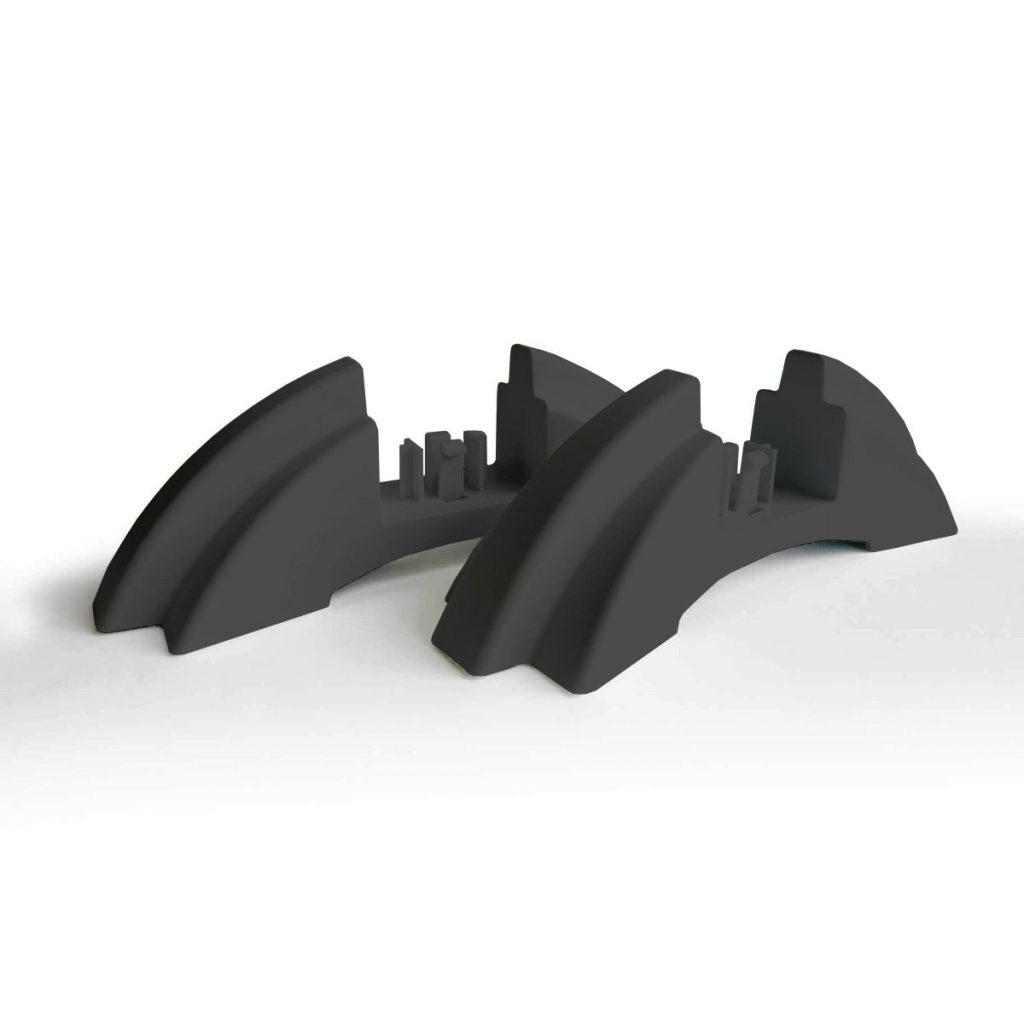 Freestanding installation available: Both the white and black finishes of the iQ Ceramic come with compatible feet as a purchasable add-on, which simply slot into the base of the unit – great for more focused, spot-directed heat.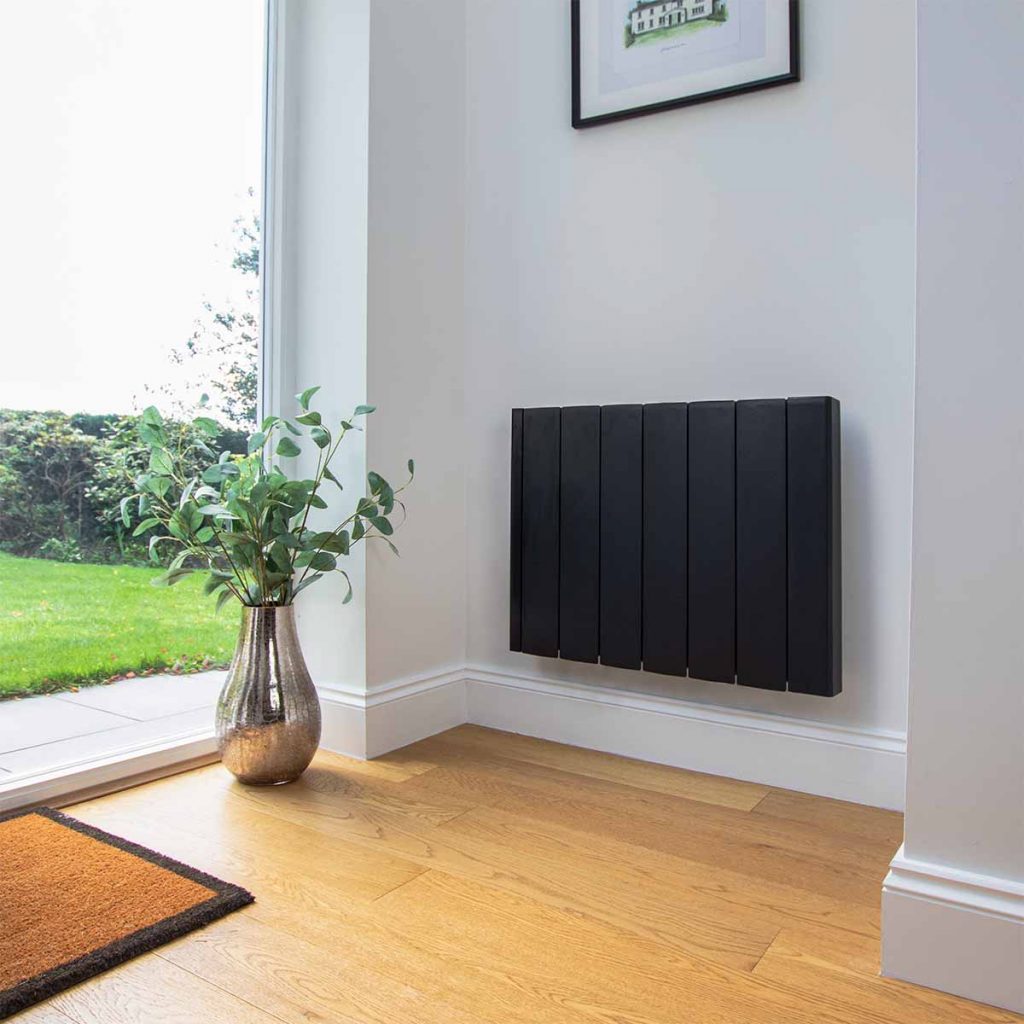 Zero maintenance: As the iQ Ceramic works through electric, there's no need for any annual checks, as is the case with gas heaters. All that's needed is a wipe down and a dusting every so often.
A seamless heating choice for a variety of spaces, the iQ Ceramic in black is a burst of modern style and substance. Now you're out of the dark, why not take a closer look at our new model today? Click here to find your nearest stockist, or speak to an advisor. If you're a wholesaler interested in stocking Ecostrad's range of high spec heating solutions, including the iQ Ceramic, find out how you can become a partner with us today.