New build vs old build – heating with electric
The age of a property will determine a lot, from construction type to its overall value – and when it comes to heating, these characteristics really matter. With gas central heating no longer holding the future-proof status it once did, homeowners, landlords and developers are looking for an efficient, low-carbon alternative. Whether looking to heat a small, energy-efficient new build or a large, poorly insulated period property, the power of electric means there's a solution for every type of build.
The term 'new build' refers to a property that has been built within the last two years or hasn't been lived in previously. Owners of new builds are already in a good position when it comes to heating, as homes built after 2012 benefit from a higher EPC rating (even higher for homes built after 2022).
What to consider when heating a new build
2025 Future Homes and Buildings Standard
As part of the UK's efforts to decarbonise, new builds from 2025 will have to adopt a low-carbon heating alternative to gas. Electric heating like heat pumps and electric radiators produce no emissions at point of use, and can be paired with a renewable energy source or green tariff for 100% carbon neutrality from start to finish. If you are a homeowner or landlord looking to get ahead of the 'boiler ban', there's never been a better time to invest in electric.
Many new-build developers are known to pack as many houses onto an estate as possible in order to maximise profits. This means it's unlikely that electric heating systems like ground source heat pumps will be a suitable alternative for many due to smaller gardens. Space-saving, unobtrusive indoor solutions like electric radiators are ideal when it comes to maximising space and maintaining comfort levels in an already well-insulated property.
This 2018 legislation sets out certain requirements electric heaters must meet in order to improve performance and efficiency. These energy-efficient features include 24/7 programming, adaptive start, open window detection and WiFi control. Modern homes require modern solutions to avoid costly retrofitting in the future, so ensuring you invest in electric heaters that comply with Lot 20 is essential when heating a new build.
Recommended heating for new builds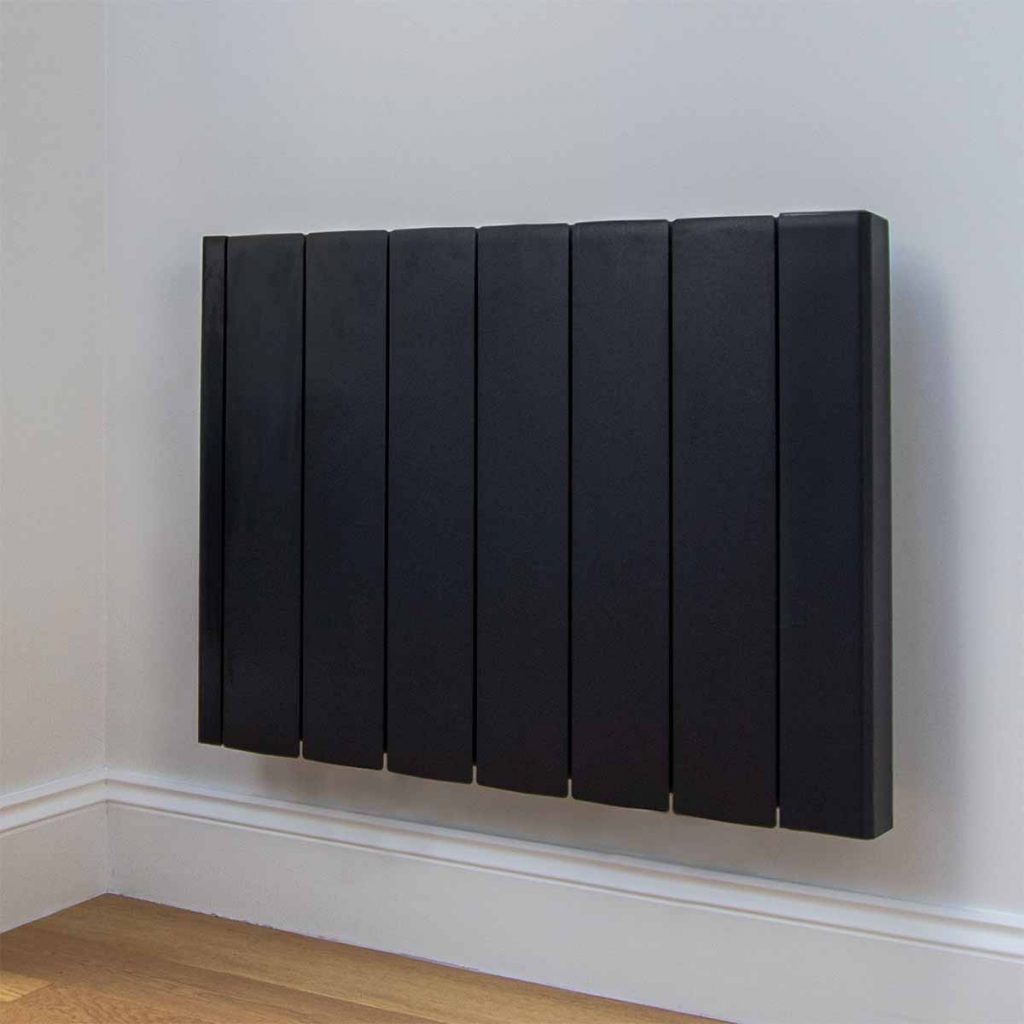 Modern, efficient and versatile, smart electric radiators are easy to install and are a cheap way of heating well-insulated new builds. For ultimate ease over heat management, smart electric radiators grant full control via a smartphone app, allowing users to adjust temperatures, set weekly schedules and set energy-saving features remotely. When inside the property, commands can be managed via a home voice assistant for total convenience – no unsightly wall thermostats or clunky manual handling necessary. As electric radiators can be controlled on a room-by-room basis, app control ensures owners will never have to waste money heating rooms that aren't in use. Spanning a range of designs and colourways, electric radiators integrate seamlessly within contemporary properties.
We recommend: Ecostrad iQ Ceramic
Due to improvements in building standards, new builds are more airtight and are less likely to deal with heat loss and temperature fluctuations. Using 100% convection, electric panel heaters use an aluminium element to heat the air that passes through the heater and releases it back into a space quickly. As they're designed to top up temperatures occasionally, electric panel heaters are ideal for use as a supplementary heater when moving from room to room, without having to turn on a home's primary heating system. With wall mounted and freestanding installation available, electric panel heaters are primed for total adaptability.
We recommend: Ecostrad iQ Plus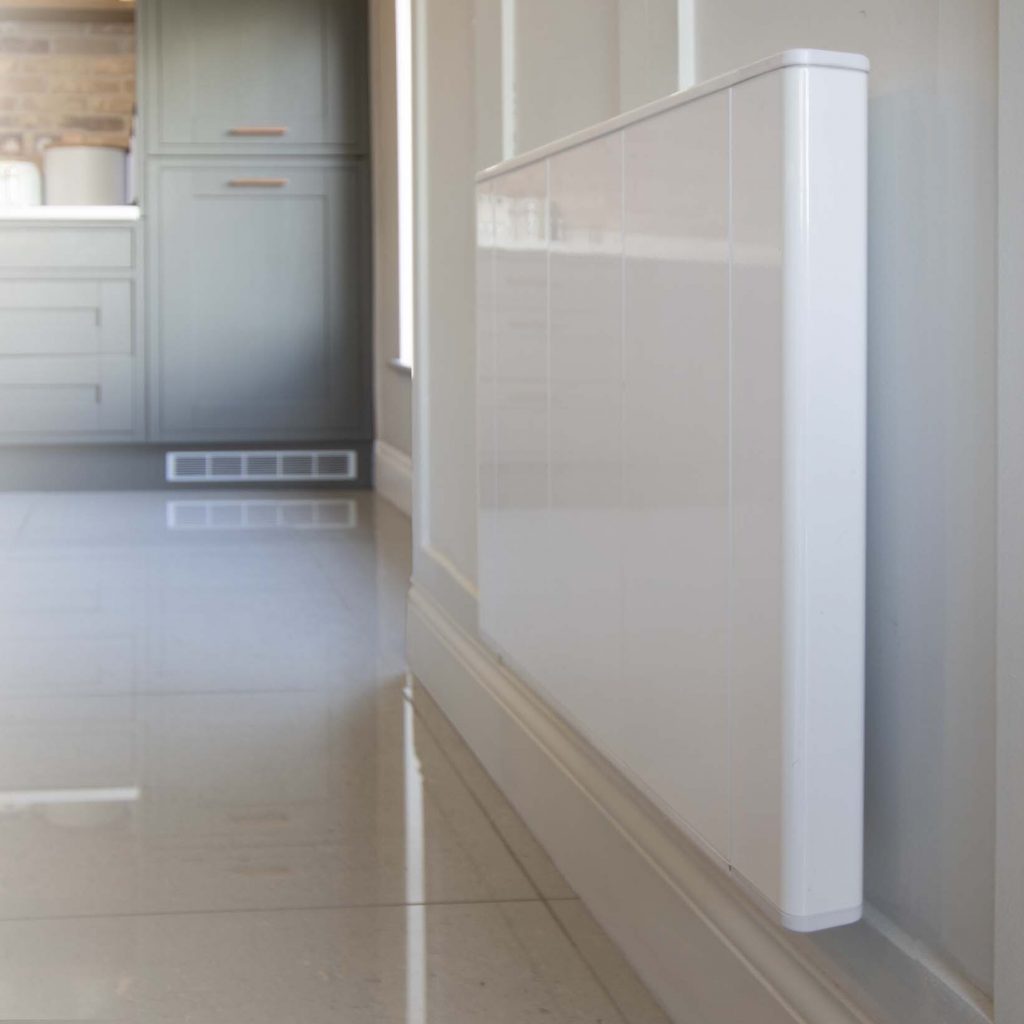 The term 'old build' generally applies to homes built over fifty years ago. Old builds remain popular due to their quant period features and usually larger rooms and gardens. But with character comes a major catch: older homes are inherently less energy efficient than new builds, so they can be both difficult and expensive to heat.
What to consider when heating an old build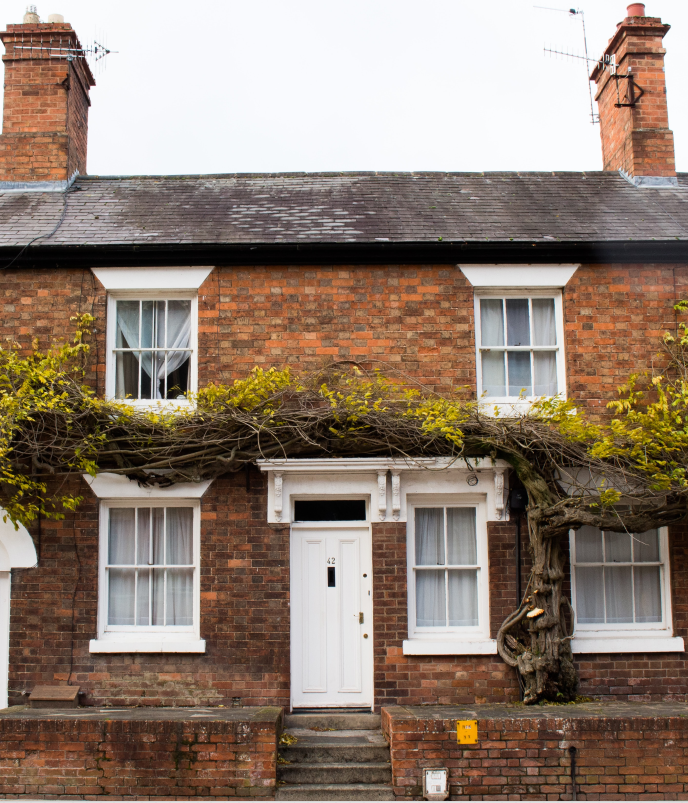 The Office for National Statistics (ONS) has named the age of a property as the biggest single factor in energy efficiency, due to how building techniques, materials and regulations have changed over time – as well as general wear and tear. Low-carbon alternatives like heat pumps may require a home to undergo extensive replumbing or insulation, as their lower heat supply is inherently unsuitable for builds with poor energy efficiency. Older homes are also more likely to have high ceilings and poor thermal mass, leading to draughtiness and cold spots. Opting for an electric heating system that can produce a robust heat output without excess energy waste is imperative when heating an older property.
Dampness is a common problem found in older builds, thanks to badly ventilated spaces, cracks or blocked guttering. Left unchecked and it can lead to major structural damage, so it's important to keep rooms as warm and dry as possible. With convection heating, warm air is circulated around a room and releases as condensation when it makes contact with a surface. However, many electric heating systems produce a portion (if not all) of their warmth as radiation, which heats a space without affecting air movement.
Whether replacing a dated kitchen, converting the loft or building a conservatory, owners may find a lot of work is needed in order to modernise and add more space and value to an older property. Extending a centralised system is both costly and disruptive – electric heaters contain no moving parts and work completely independently from each other, making them the ideal solution for renovations and extensions. Plus, if there ever is a problem with one appliance, it won't affect the rest of the property's heating.
Recommended heating for old builds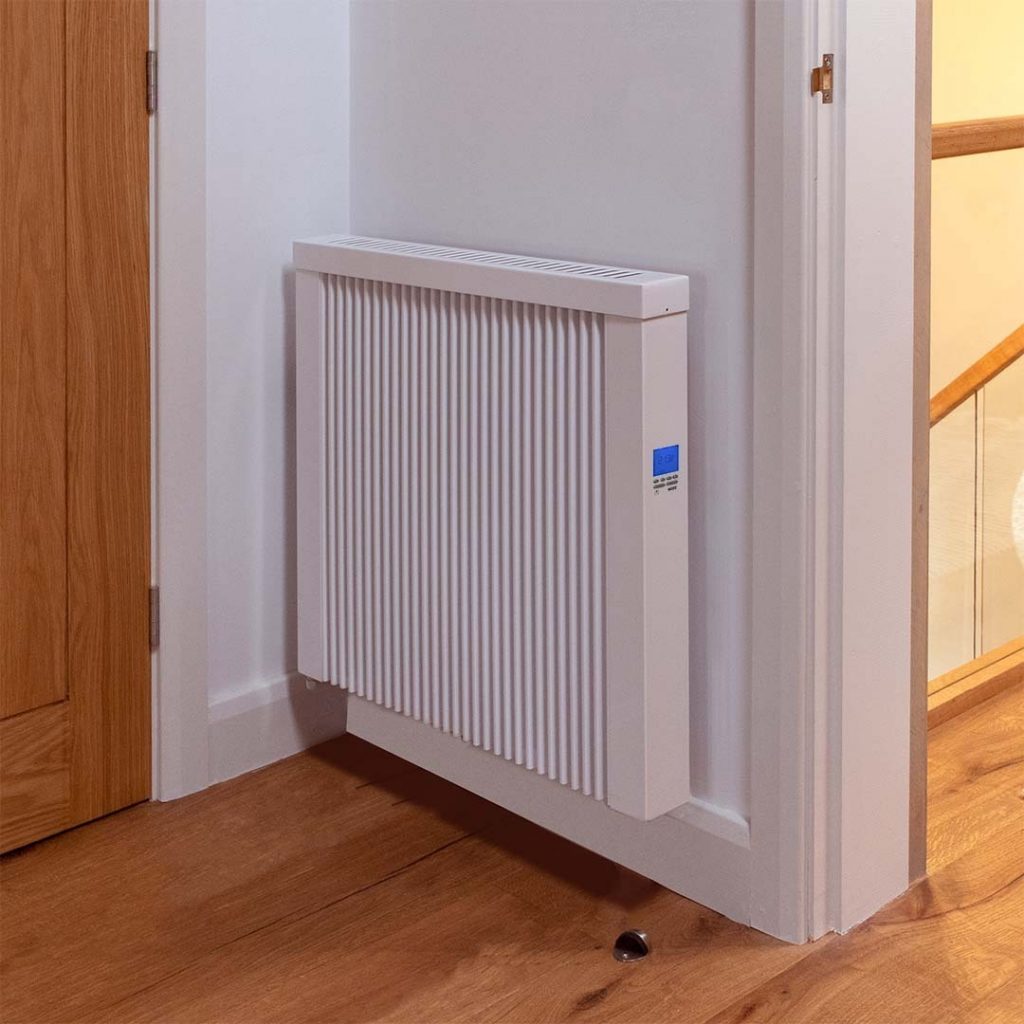 Ceramic electric radiators
With a ceramic stone core, these radiators boast superior heat retention and distribution over standard models. They absorb and retain heat extremely well, emitting warmth out into a room with greater intensity. Producing 50% of their warmth as radiation instead of the usual 30%, rooms stay warmer for longer using no extra energy. With a range of styles, finishes, and DIY-friendly installation as standard, ceramic electric radiators integrate seamlessly with both traditional and modern décor.
We recommend: Ecostrad Ecowärme
Infrared heaters emit 100% of their warmth as radiation, making them particularly effective in older builds that may struggle to retain heat. With a robust output that can cover large areas, infrared panels direct warmth in a straight line rather than heating the surrounding air. The warmth of infrared sinks deeply into the fabrics of a property, so walls are kept warm and dry – effectively eliminating the formation of damp and mould. With wall and ceiling mounting options, infrared panels can be placed strategically to direct heat wherever it's needed most. As the far infrared technology used is particularly gentle and long-lasting, infrared panels are primed for all-day use. Their increased efficiency means they rarely have to work at their full wattage, saving energy and slimming running costs in the process.
We recommend: Ecostrad Opus iQ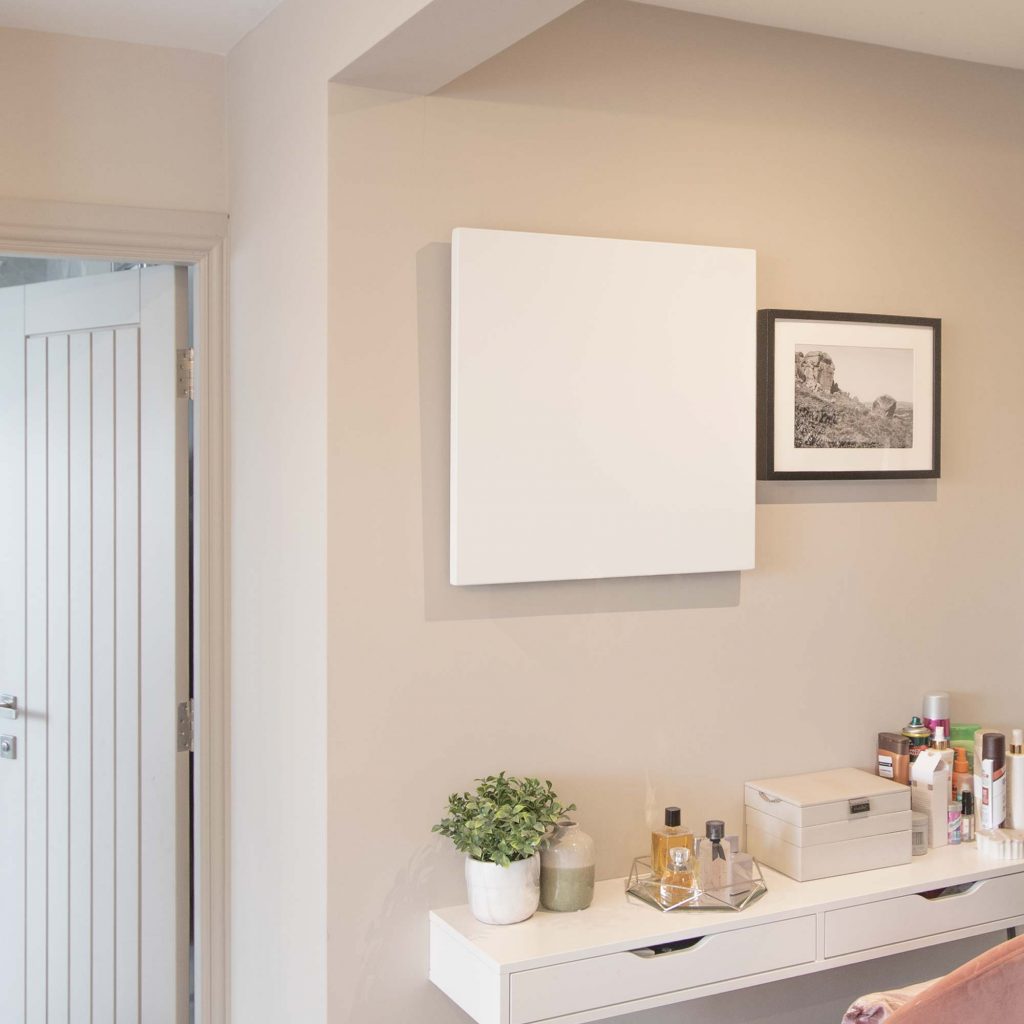 Old or new, heat your property with Ecostrad
No matter the age of your property, get ahead of Net Zero and make the switch to electric today. At Ecostrad, our market-leading solutions are efficient, highly controllable and Lot 20 compliant. So, shop our full range at Electric Radiators Direct or find your local stockist here.