Ecostrad infrared panels: Opus vs Accent
Infrared panels have a sleek and exclusive look, blending in with lighter walls and forming an eye-catching contrast against darker tones. They certainly have a futuristic feel, so you'd be forgiven for thinking they come with a hefty price tag. Here at Ecostrad, we've designed two infrared panels – the Opus and the Accent – both manufactured to the highest of standards, delivering robust infrared heat at an affordable price point. But what's the difference between the two?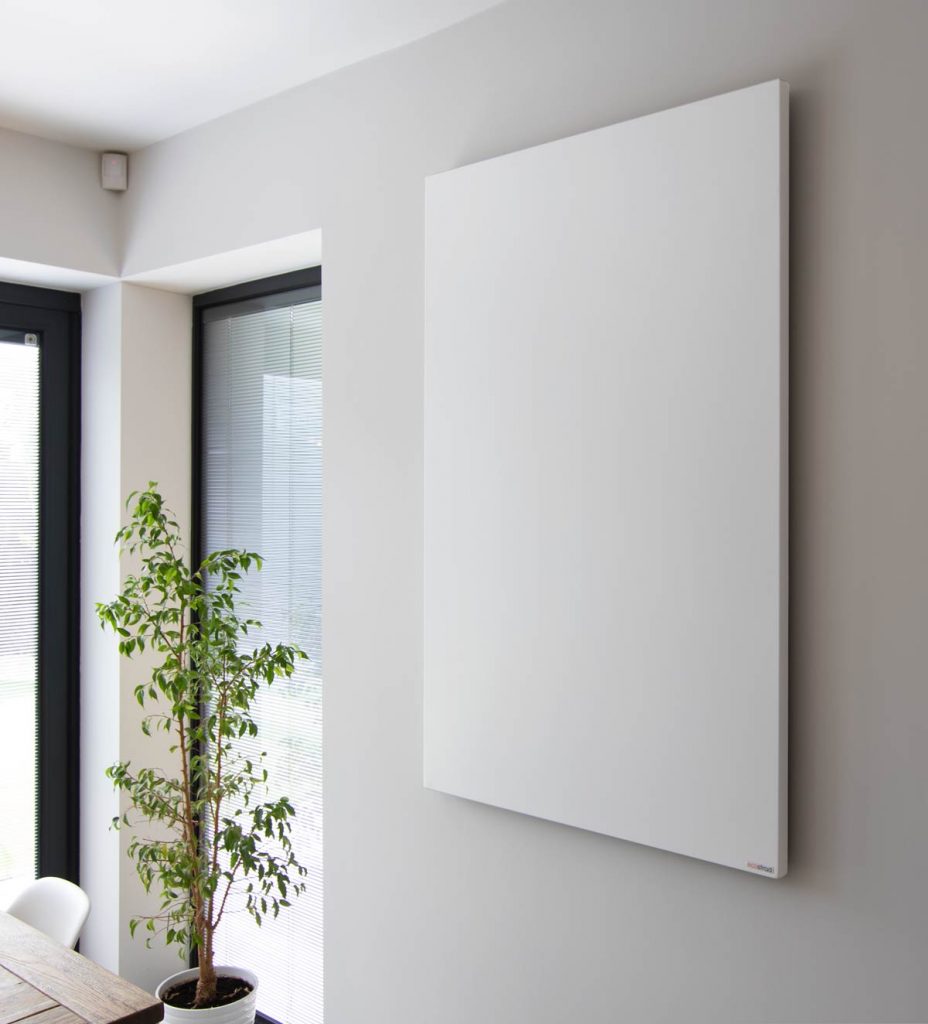 As its name suggests, the Ecostrad Opus has the look and feel of a blank canvas you'd expect a great work of art to be etched onto. With its slightly curved, rounded edges, the Opus has a welcoming yet sophisticated air. Able to both blend in and stand out, this infrared panel complements a range of existing or future design schemes, adding a touch of elegance to any space. The versatile range is suitable for bathroom installation and includes a ceiling mounted option, for heating that matches its users' installation needs to a tee. 
The Ecostrad Accent boasts the familiar lean, flat design associated with standard radiant panels with its main aesthetic difference being its frame, which adds an extra few millimetres to its periphery. As such, the Accent subtly catches the eye, its frame drawing attention to its elegant facade without being loud or obtrusive. Still inconspicuous, this panel has a delicate 22mm depth, so it won't protrude out into the broader volume of a room – maximising space and allowing other furnishings to do the talking. The Accent also has a ceiling mounted option, to take your property's heating out of the immediate eyeline – great for offices, schools, and restaurants alike.
Radiant infrared heat
Both the Opus and Accent make use of infrared heat, a safe form of radiation that is very similar to the type of warmth the sun gives off, just without the harmful UV rays. Infrared is a type of thermal energy that travels through the air in a wave, reaching the surfaces of objects, which then absorb the heat on an internal level. These 'objects' include people, furniture, pets, and the actual walls of properties themselves. This heat is then reradiated back out into a space, creating a bubble of 360° warmth that lasts.
Infrared heat does not rely on heating the air to make users warm – its waves travel directly through the air to objects. Unaffected by draughts or chilly spots, the overall air temperature will not prevent the soothing infrared waves from reaching surrounding people. Bypassing the middleman in this way equals a deeper, more long-lasting form of heat.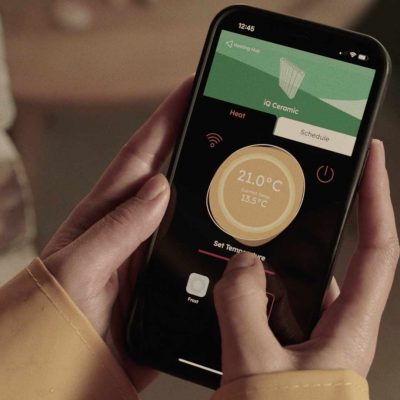 Both the Accent iQ and the Opus iQ are capable of WiFi control – a huge benefit for any heater as it helps to improve efficiency and lower running costs. Let us explain further…
●    Compatible with the Ecostrad Ecosystem app, both iQ models can be controlled through a smartphone or tablet for effortless heat management. Simply download the app for comprehensive control over these sophisticated panels.
●    As long as you're connected to the internet, you can control your heating from anywhere – you don't even need to be in the same country! A huge benefit if you need to manage the heating in your rental property or holiday home from afar.
●       When it comes to a ceiling-mounted fitting, users can still manage their heating from a distance – so there's no need to grab a ladder every time an adjustment is needed. With WiFi control, programming is in your pocket, with no manual button pressing required.
●       Fitted with voice control, the panels can be paired with smart speakers for totally handsfree management
●       Their internal wireless sensors can pair with any number of iQ panels, giving you the option of grouping them together so they follow the same schedule – ideal for managing multiple devices all at once
Both ranges contain remote control operated options, called the Opus/Accent IR. They are ideal if you prefer manual programming, or if you or your users do not have access to a smart device or the internet.
Setting up micro-managed weekly schedules that match a specific routine is simple with either panel. They can be programmed to the very minute – so they can come on when users wake up, turn off when they go to work, and back on again for dinner time – whatever suits! If routines change, or your property switches occupants, the schedule can be easily altered to reflect this in a few taps. Both ranges also come with open window detection – a feature that limits energy output when a cold air source is detected – a handy feature to minimise any unnecessary running costs.
Various wattages and sizes to suit any space
Primed to match a whole host of applications, the Opus and Accent come in multiple lengths, widths and wattages, so regardless of the amount of space you have available in your property, there's a panel to fit.
Ecostrad Opus and Accent: versatile infrared heating for any space
It's no surprise infrared panels are growing in popularity. As an 100% efficient heating option, when paired with renewable energy infrared panels are a carbon-free heating solution that delivers. Our stylish Opus and Accent duo combine the ease of smart control with clean, boxy lines to elevate the look of any interior space, be it domestic or commercial. Shop the Ecostrad Opus and Accent infrared panel heaters today and propel your properties' heating straight into the future.