How Does Smart Electric Heating Keep Costs Down?
There are many misconceptions surrounding electric heating, with perhaps the running costs being the most misunderstood. While gas rates are cheaper, that doesn't mean central heating will save you money in the long run. In fact, quite the opposite. Electric is developing in leaps and bounds compared to gas central heating, which faces irrelevancy in a world adapting to diminishing resources. For millions of people, electric has become an integral fixture in home heating for its convenience and environmental benefits – not least all the ways it can keep costs down.
What is smart electric heating?
Smart electric heating utilises features such as app control and voice/motion-activated programming to give users unlimited control over the way they heat their homes. By pairing electric heaters with a compatible smart device, warmth can be micromanaged down to the minute and each appliance can be programmed on an individual basis. You can even enable features such as motion detection, which automatically adjusts the heating in your property without any manual input required. Smart heating not only saves you time; it saves you money by providing innovative solutions to managing your energy usage.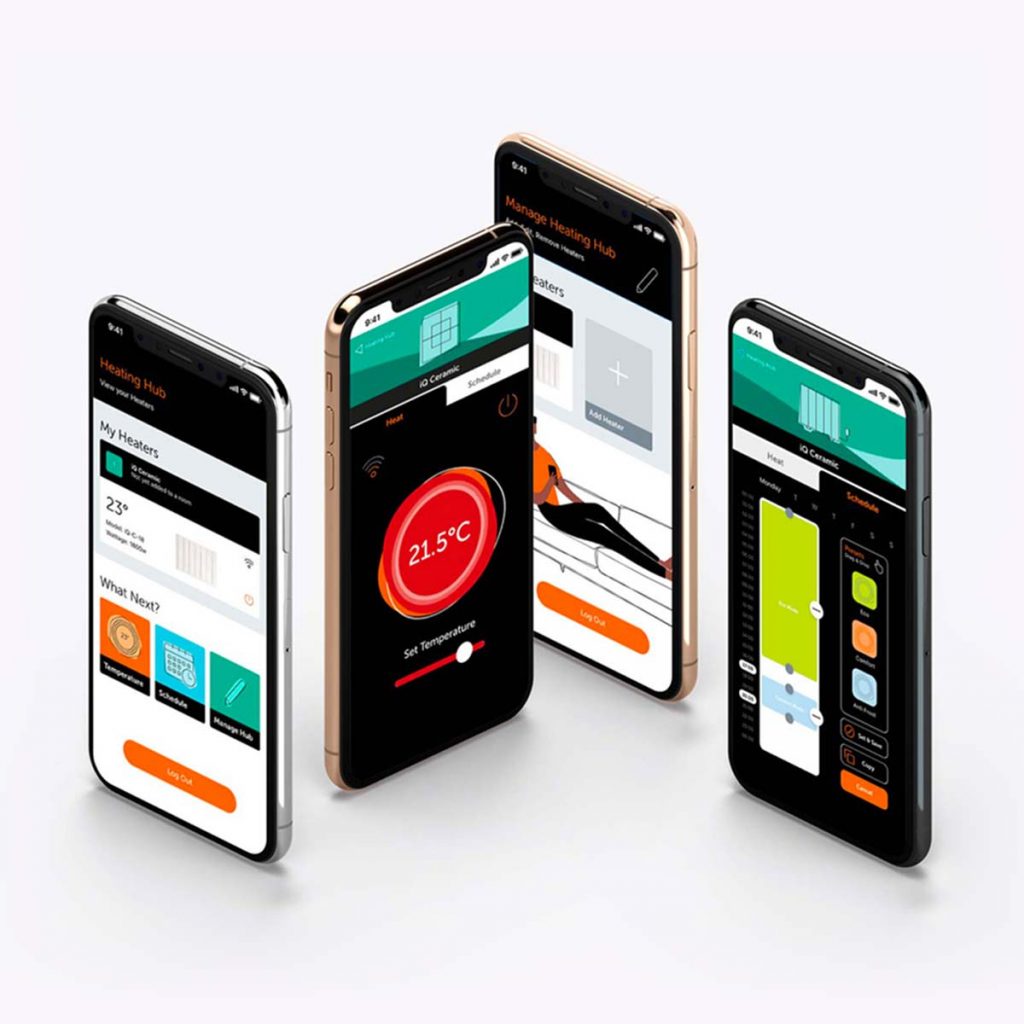 How does it help to reduce running costs?
All Ecostrad heaters with WiFi control are compatible with Ecosystem, our home-grown app offering ultimate convenience for seamless use. Offering a wide range of control features that cannot be found through basic manual control, the Ecostrad Ecosystem app has a lot to offer. Share the same account on multiple devices and connect heaters in seconds. You can even manage the heating in your property when you're on the go – ideal for vacant rentals you want to keep an eye on. Ecostrad's smart heaters even feature effective solutions to help avoid breakdowns. For example, a holiday home that remains vacant during the colder months can have its radiators set to anti-frost mode remotely using the app.
WiFi control has revolutionised the way users interact with their heating: access a wealth of other energy-saving features including self-programming and voice control. The options are extensive, but never complicated. With an attractive and simple interface, the Ecostrad Ecosystem app can be used any time, any place.
With motion detection, smart heaters will adapt temperature levels depending on whether people are in the room. With no manual adjustment required, when nobody is present it will switch the radiator to a lower temperature setting to avoid energy waste – an incredibly effective, low-maintenance approach to reduce running costs. This feature is a necessity for holiday lets or rental properties that may remain unoccupied for long periods.
Precision digital thermostats
Ecostrad smart electric heaters are fitted with highly accurate thermostats that maintain set temperatures without fluctuating. As a result, energy isn't lost on under or overheating a space. A digital thermostat is an efficient way to reduce running costs because it offers exact readings and can detect when the temperature goes above or below your preferred setting – adjusting itself immediately without the need for manual adjustment.
For a bespoke approach to heating, smart electric radiators with 24/7 programming allow you to set up a personalised heating schedule tailored around a specific routine – ideal for new tenants in your rental. As a result, energy isn't wasted heating a property when it isn't in use, minimising running costs. Plus, if you've had multiple electric heaters fitted, you can even set up different schedules for each room for ultimate efficiency. This feature is not only low effort but a must in keeping costs down.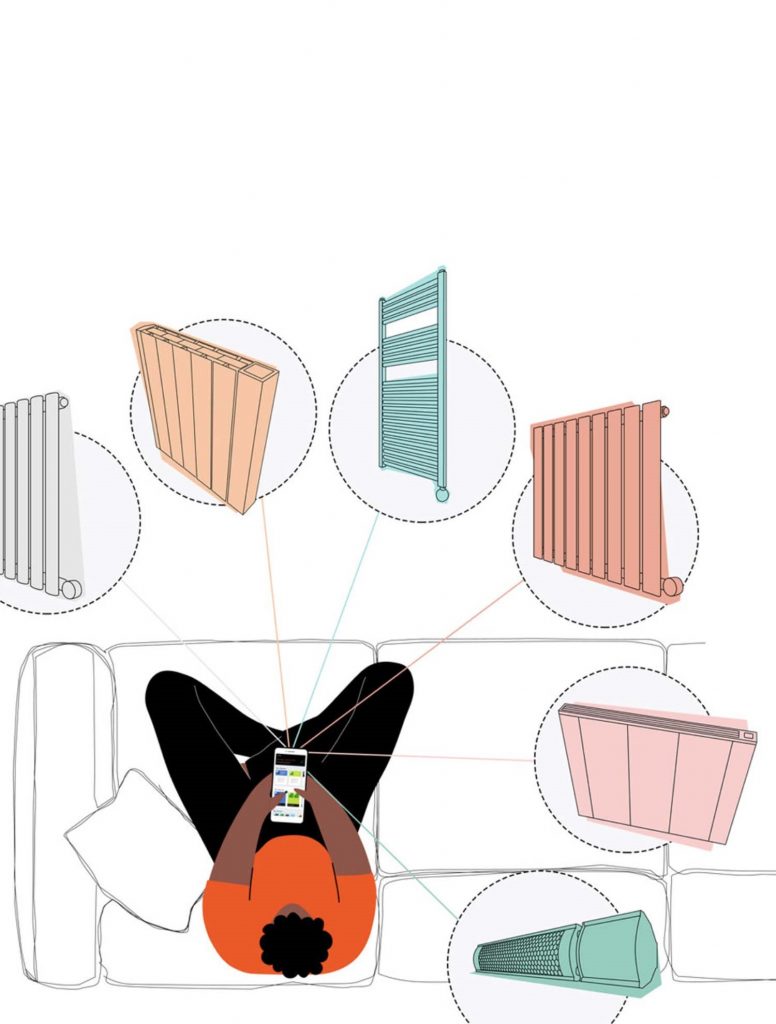 Other ways smart electric heating keeps costs down
DIY-friendly installation – Easy to install, you can avoid costly plumbing fees with electric. These heaters come with all fixtures needed for plug-and-go fitting, so you don't have to worry about time-consuming installation.
Zero maintenance – Unlike gas boilers, electric heating does not require any mandatory annual maintenance checks. One of the main benefits of electric heating is that costs are much lower for repairs, as the rest of your system will not be affected by one broken unit. The units themselves are expected to last longer than gas radiators, as the radiator bodies involve no moving parts. All Ecostrad smart electric radiators and panel heaters offer 10-year warranties, so there are no unexpected costs down the line.
Energy usage statistics – Smart control allows you to identify excess consumption via energy usage statistics – a feature on the Ecostrad Ecosystem app that enables you to slim running costs and economise. By having a clear and convenient way to view exact heating expenses, immediate action can be taken to minimise waste.
100% efficiency – As heat is delivered straight from the heater as opposed to being distributed through pipework, every watt of energy is converted into usable heat, ensuring you only pay for what you use – not what you lose.
Get ahead with smart electric heating
As part of the government's Clean Growth Strategy, all new builds must be fitted with non-fossil fuel boilers after 2025. This means in a few years, millions of landlords and homeowners will have to refit their properties with compliant alternatives when the time comes to replace their boilers. By getting ahead, you can take advantage of a rapidly evolving market that is on its way to becoming the norm as the UK sets out to achieve Net Zero by 2050.
Ecostrad is providing the best selection of smart electric heaters on the market. Whether you want to take charge or allow its smart features to adapt to you, our intelligent heating solutions will suit any property or budget. Attractive, discreet, and effective, shop now and find out just how much you can save with electric.