How to keep your patio warm through autumn & winter
From a comfortable reading spot to an inviting place to host family and friends, patios are an essential feature of many UK gardens. As it gets colder, you may find yourself looking for ways to maintain the cosy ambience of this outdoor space, ensuring your patio stays warm and cosy throughout the winter months. With Ecostrad's versatile range of  infrared patio heaters, you can enjoy your favourite garden hotspot without compromising on comfort. Before we take a look at the best outdoor heaters Ecostrad has to offer, we must first understand what makes this heating solution the most effective when it comes to offsetting chillier outdoor temperatures.
Why are infrared patio heaters the best choice?
Supplying 100% radiant heat, infrared patio heaters produce warmth that is easily absorbed by people, objects and surfaces, rather than the surrounding air. Not only does this minimise the chance of heat being lost to the wind, but it also ensures that your patio is filled with deep, lasting warmth.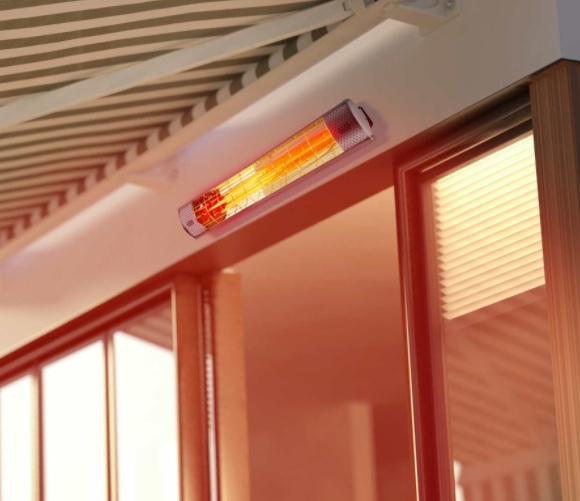 Top 5 benefits of infrared patio heaters
When it comes to keeping your outdoor space warm, infrared patio heaters share a wealth of benefits, including:
Responsive warmth: once the infrared heater is switched on, it will get to work right away, for fast-acting heat in a matter of moments.
Maintenance free: unlike other forms of outdoor heating, you won't need to extend your plumbing or spend money on annual maintenance checks.
DIY-Friendly: many of these patio heaters are compatible with DIY installation, for hassle-free fitting. Whilst all of them can be wall mounted, some of these heaters also allow for freestanding fitting (if compatible with the Ecostrad Infrared Patio Heater Stand), for flexible installation. Although you may need to have your patio heaters hardwired by a qualified electrician, this job is a quick and easy one for a professional.
Versatile style options: with contemporary design options, as well as a range of finishes, you can handpick a patio heater that best matches your outdoor décor.
Energy efficient: converting all electricity taken from the wall into usable heat, infrared patio heaters are certainly the sustainable choice. They also come with a range of convenient control features, allowing you to schedule heating in advance, reducing running costs by only using energy when you need it most.
Ecostrad Infrared Patio Heaters: Featured Products
Here at Ecostrad, we have a range of infrared heaters sure to suit any patio, be it commercial or domestic. Just in time for winter, we've narrowed down our top three picks: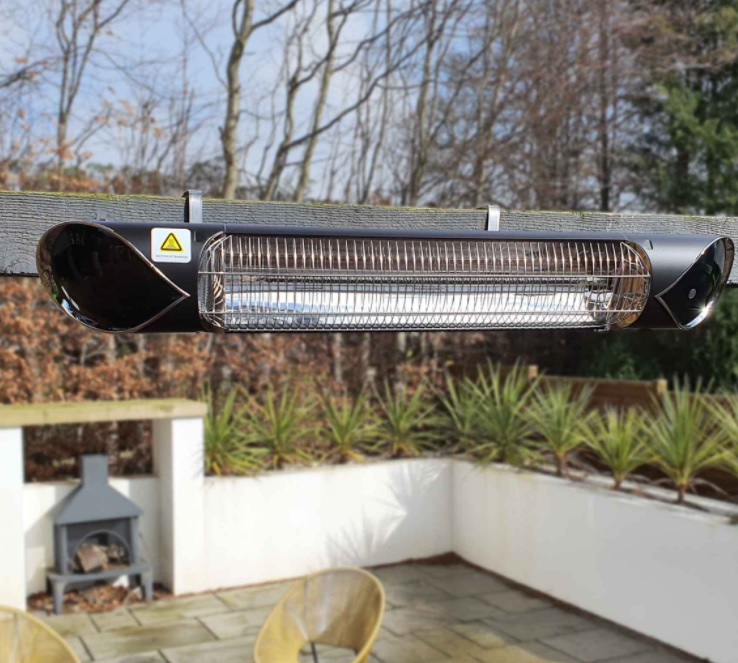 The Ecostrad Thermaglo: Exceptional Controllability
The Thermaglo produces gentle mediumwave heat that warms people and objects directly, making it an ideal choice for sheltered outdoor spaces, especially during the colder months. Fitted with a cutting-edge carbon fibre filament, this outdoor heater offers highly responsive warmth with an extra reduced glare for discreetness. Complete with a contemporary design, the Thermaglo really is an all-rounder when it comes to patio heating. 
Best Features
4-stage power output
Integrated LED display
Unique teardrop design
This sophisticated patio heater also comes with a range of user-friendly control functions, making outdoor heat management that much easier during the winter months. With four different heat outputs, you can effortlessly switch between settings to achieve your ideal temperature and save energy on warmer days. For full accessibility, the bright LED screen shows you exactly what heat mode it's on, so you can always keep track of how much power you're using. A set and forget timer function lets you program the heater to switch on at set intervals, so you can tailor the Thermaglo to match how much time you'll be spending in your patio area on that given day.
The Ecostrad Sunglo: Eye-Catching, Elegant Aesthetic
The Ecostrad Sunglo boasts a striking design sure to bring a touch of modern flare to any patio. Available in reflective chrome or slick black, you can choose which version of the Sunglo best matches your patio design, to transform your outdoor space into a stunning focal point.
Best Features
Weatherproof IP65 protection rating
Special gold-coating reflectors
Modern honeycomb grill
Besides its unique style, the Sunglo delivers invigorating near infrared warmth that gets to work as soon as you switch it on – ideal for draught prone spaces like your patio. Perfect for winter, special gold-coating reflectors ensure warmth is always projected outwards, helping offset colder temperatures. The Sunglo also offers a 2-stage power output, so you can choose a heat level that best suits your preferences. Plus with a robust IP65 rating, the Sunglo provides complete peace of mind when it comes to patio heating.
The Ecostrad Cirrus: Intuitive Patio Heating
The Ecostrad Cirrus serves as a bold statement piece in any patio, sporting a dramatic silver finish and curved design. With an ultra-low glare promise, this designer patio heater even provides soft and mellow lighting to your outdoor space, helping you create the ideal ambience in your garden.
Best Features
3 different heat levels
1 – 9 hour rundown timer
Contemporary aesthetic
Equipped with a range of handy automatic functions, the Cirrus offers ultimate convenience when it comes to managing your patio heating. When purchased with its remote control, you'll have access to a convenient 1 – 9 hour timer which switches off when it's finished running, for set and forget heat management and maximum efficiency. The remote control also lets you switch between three different heat levels so you can easily choose a setting that best combats the chill on those extra cold days.
Browse our full range of patio heaters today
Keep your favourite outdoor spot warm all year round with Ecostrad's versatile range of cutting-edge infrared patio heaters. Providing energy-efficient, responsive warmth, these heaters are ideal for draught-prone areas, making them the perfect fit for your patio, even during the colder months. From the intuitive Cirrus to the flexible Thermaglo, there are plenty of options available to best suit your preferences. Style wise, you can handpick a design and finish that perfectly matches your outdoor décor, for a designer addition to your garden.