Meet Our New Smart Electric Towel Rails: The Ecostrad Cube & Scala
Just in time for winter, Ecostrad have launched two new lines of smart electric towel rails – the Cube and the Scala. An ideal heating solution for offsetting the chill in your bathroom, these modern electric heaters provide comfortable warmth whilst keeping your towels dry throughout the day. What really sets the Cube and Scala apart from other towel rails are their smart capabilities, offering either Bluetooth or WiFi connectivity, for cutting-edge control. So, let's take a look a closer look at what makes these towel rails so smart and explore how they could benefit any property.
What is a smart electric towel rail?
A smart electric towel rail offers an intelligent way to manage your heating, often via an app on your smartphone. The Cube and Scala come with either Bluetooth or WiFi app control, both of which offer something different when it comes to programming your heating. With Bluetooth connectivity, no line of sight is needed, letting you adjust the towel rails from anywhere in the home, all from the palm of your hand. WiFi electric towel rails go one step further, allowing you to adjust warmth on-the-go, even when you're away from your property. For example, if you're in the office and realise you've left your towel rail on, you can switch it off with a few simple taps of your smartphone, for flexible heat management. Whether you prefer the Cube or Scala with Bluetooth or WiFi, there is an option to suit everyone.
Bluetooth versions: Cube and Scala
Benefits of Cube and Scala
Now that we've covered the fundamentals of smart electric towel rails, it's time to turn our attention to the stars of the show – the Cube and the Scala. Heating your bathroom with these appliances provides a number of advantages for any home – we've narrowed down the top five benefits:
Multi-functional: the Cube and Scala will keep your towels dry whilst providing comfortable warmth to your entire bathroom.
Sophisticated control: the smart versions of these towel rails are available in a Bluetooth or WiFi options, so you can choose the style of control that best suits you.
Independent bathroom heating: manage your bathroom heating separately to the rest of your property, using the towel rails to supply warmth only when it's needed. This economical option is perfect for whenever full home heating isn't required, allowing you to save energy and reduce running bills.
Robust warmth: heat retentive thermal fluid provides an even distribution of warmth across the bodies of the Cube and Scala. Quick to heat and slow to cool, they supply lasting and efficient warmth to your entire room.
Splashproof guarantee: all versions of the Cube and Scala come with a suitable IP rating, making them safe for bathroom installation, for worry-free warmth.
Cube iQ and Scala iQ – a closer look
For the very best in smart bathroom heating, the Cube iQ and Scala iQ tick all the boxes. These smart heaters come with an innovative Ecostrad iQ WiFi heating element that's built with cutting-edge WiFi control. Offering a modern-take on traditional bathroom heating, these smart towel rails will revolutionise the way you heat your bathroom, letting you manage warmth from your smart device, even when you're far from home. Let's see what makes these WiFi towel rails the premium option.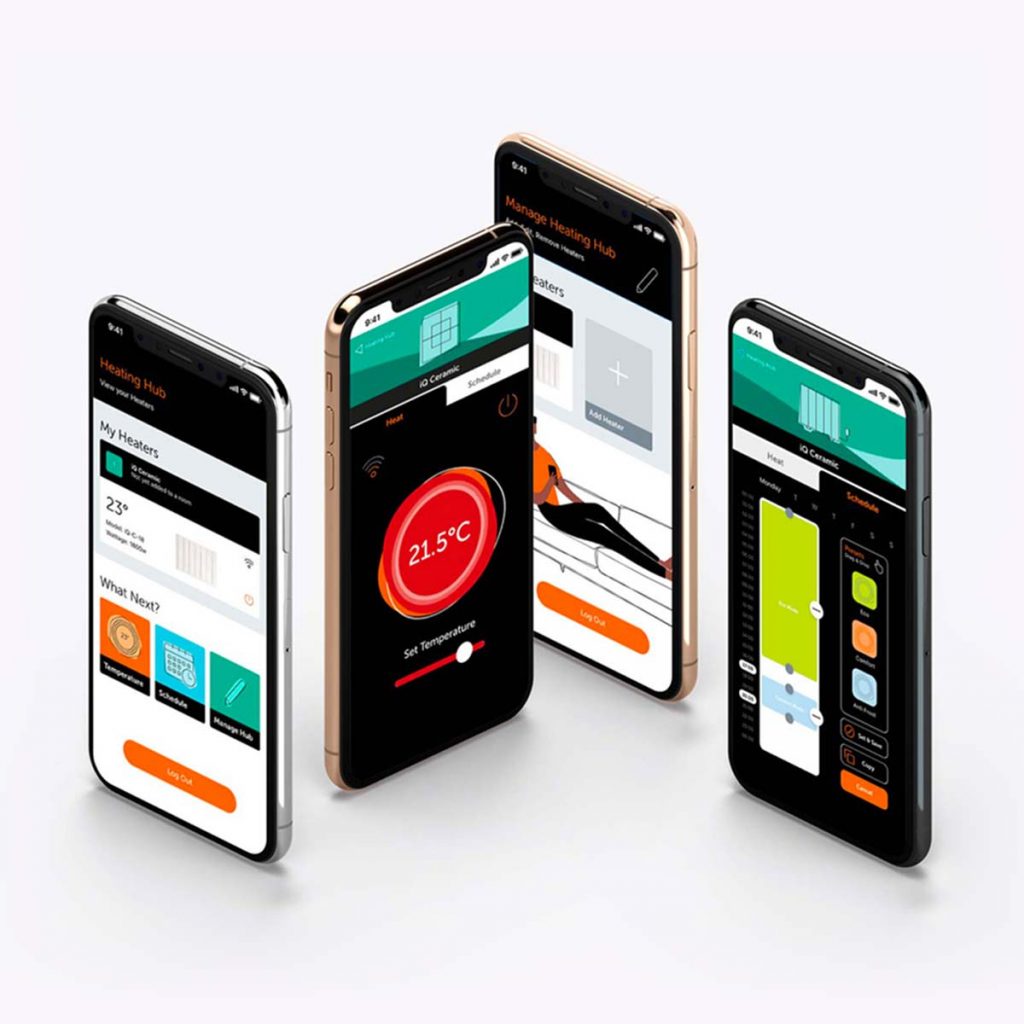 To start enjoying advanced control, all you have to do is download the sophisticated Ecosystem app and pair it with the Cube iQ or Scala iQ. From there, you'll have constant access to your bathroom heating system, all from the palm of your hand. Create custom heat schedules and effortlessly change temperature with a few simple taps of your phone screen. WiFi control also lets you manage these smart towel rails from anywhere in the world – at the office, in the supermarket or even when you're on holiday. So, if the weather takes a chilly turn during your Sunday walk and you want to return to a cosy home, simply open the app and schedule the Cube iQ or Scala iQ to switch on just at the right time.
As electric heaters fitted with their own thermostats, the Cube and Scala work as standalone appliances, which means they can be controlled on an individual basis. Instead of heating your whole house just to dry your towels, you can simply switch your towel rail on and keep the rest of the house cool. Not only will this reduce your energy usage, but it will also lower your running costs too, giving you a much more efficient system. With the Cube iQ and Scala iQ's 24/7 programming feature, you can even set up a heating schedule in your bathroom, perfectly suited to fit your daily and weekly routine, taking the guesswork out of heating your home.
The Cube and Scala come with a touchscreen Ecostrad iQ WiFi heating element which features a safe LST mode, restricting the temperature of the appliance to 30°C. Ideal for homes with young children, this feature lets you heat your bathroom with complete peace of mind.
Smart towel rails with a designer edge
What truly sets the Cube and Scala apart from one another is the distinction in design. Both towel rails boast a unique style, so you can handpick an option based on your interior design scheme.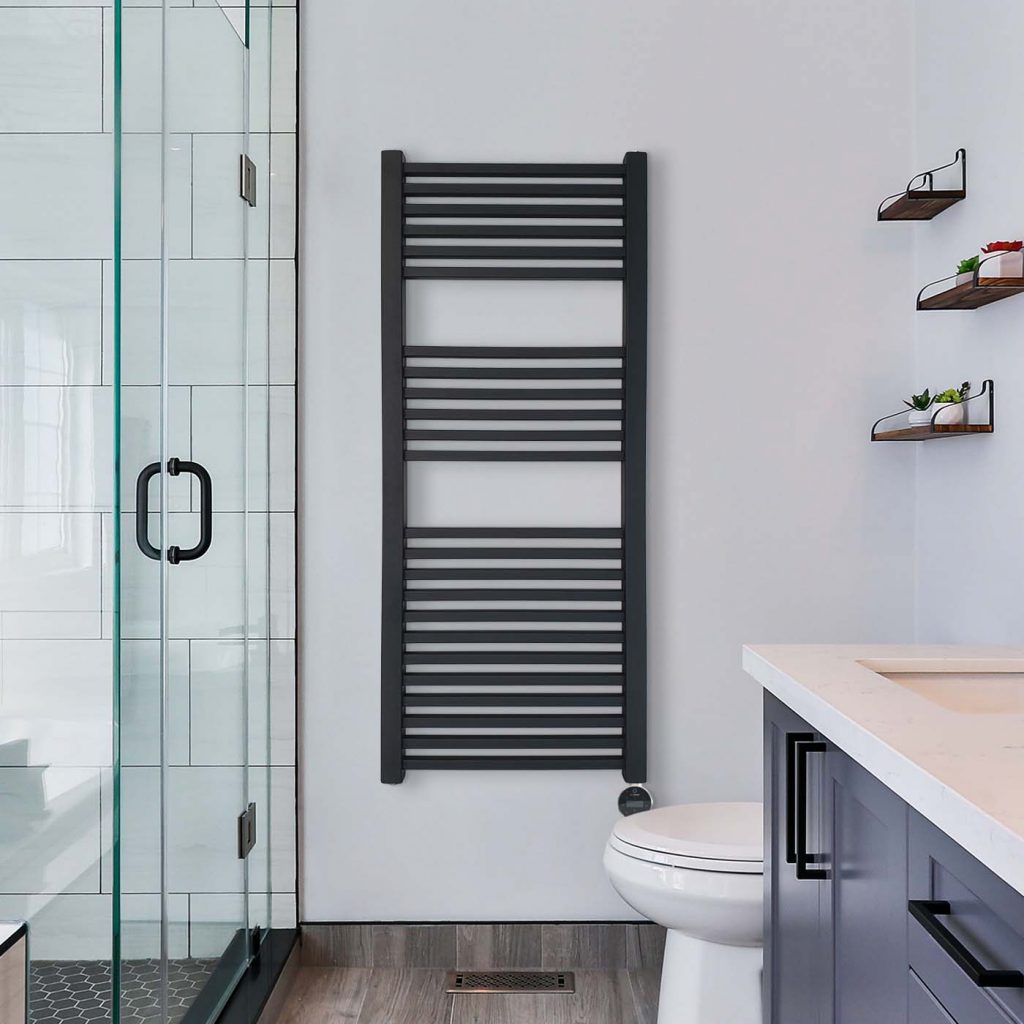 The Cube: Contemporary elegance
Combining a traditional ladder shape with an eye-catching finish, the Cube puts a modern spin on the classic towel rail design. Complete with minimalist square bars, this electric towel rail is a must-have for those seeking a simple yet striking aesthetic. Available in dramatic anthracite or reflective chrome, the Cube serves as a statement piece in any bathroom.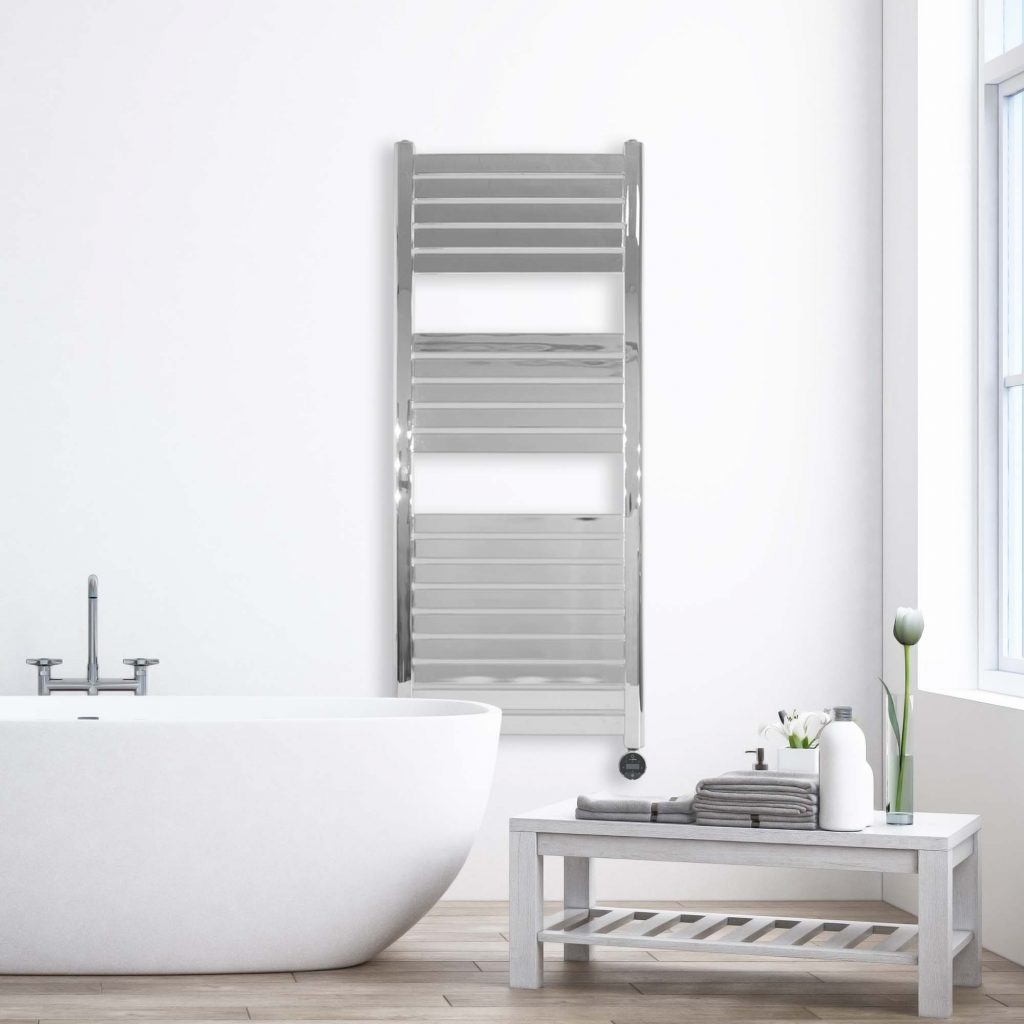 The Scala: A slick focal point
With a suave curved design, the Scala is a striking, stylish addition to every interior design scheme. Contrasting with the Cube, this heater sports extra-wide, flat bars, for a bold bathroom aesthetic. Also available in anthracite or chrome, you can choose a finish that best matches your décor.
Upgrade your bathroom heating
Convenient control, smart capabilities and luxury aesthetics – the Cube and Scala takes home heating to a whole new level. Whether you opt for the Bluetooth or WiFi version of these towel rails, you're sure to find a Cube or Scala that best suits your preferences. Browse our full range of these sophisticated heaters today.