Modern Electric Towel Rails: Choosing The Right Style
Ecostrad's electric towel rails come in a vast array of designs, colours and finishes suitable for a range of interior design schemes. From bold finishes to traditional aesthetics, we'll be taking you through all the choices available, so you can make an informed decision when it comes to handpicking a heater that best matches your décor. Before we explore the various style options, let's first look at why an electric towel rail is ideal for any property.
Why choose a modern electric towel rail?
Modern electric towel rails are dual-purpose heating solutions that provide comfortable warmth to your whole bathroom whilst keeping towels dry and toasty. Equipped with a versatile range of heat management features, such as intuitive WiFi control, adjusting your heater has never been easier or more convenient. Besides exceptional functionality, these towel rails often boast designer aesthetics and serve as a striking statement piece in a range of interiors.
Colour is the most conspicuous aspect of your electric towel rail and plays a huge role in achieving your desired aesthetic. Here at Ecostrad, we have a range of colours and finishes available, so you're sure to find one that best matches your spaces.
Electric towel rails and chrome really do go hand in hand. With a shiny glossy finish, chrome towel rails are commonplace in both commercial and domestic properties, and it's not hard to see why. Effortlessly making a statement in a wide range of interiors, this versatile colour blends seamlessly into bathrooms already kitted out with chrome and stainless-steel elements, for simple colour coordination. Whilst this is an incredibly popular choice of towel rail, it is perhaps best to avoid matching it with a room already filled with bold statement colours, to prevent overloading your design scheme.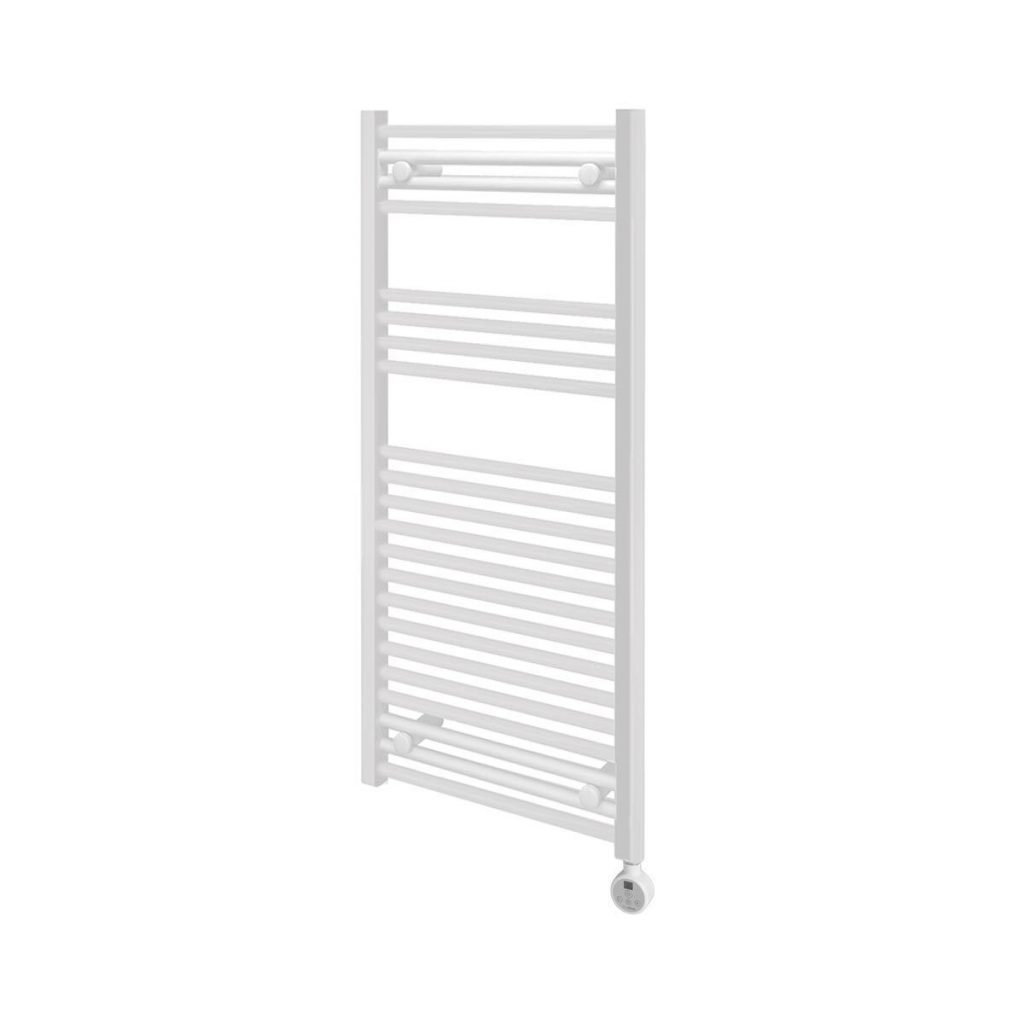 Clean, neutral and understated – white is versatile enough to blend into any bathroom. Contrast with a darker interior to create an arresting focal point or integrate neatly into a bathroom with white tiles, for an unobtrusive aesthetic. Similar to anthracite, this colour comes in a powder-coated finish, providing a much softer look compared to chrome towel rails. When paired with stone tiles or slabs, this style of heater will enhance the rustic, earthy feel of your interior.
Anthracite is a marked departure from the classic chrome finish traditionally associated with this type of heater, taking towel rail chic to a whole new level. Working particularly well against neutral backgrounds, such as white, this bold colour is sure to make the ultimate eye-catching focal point if placed in front of a contrasting background. Conversely, when paired with a darker colour scheme, anthracite adds another layer of depth and warmth to the space. Complete with a powder-coated finish, these towel rails emanate a textured feel in contrast to the glossy sheen of chrome heaters, for an elegant yet modern alternative. 
Curved and straight towel rails may not be worlds apart, but their nuances are not to be overlooked. A curved towel rail is not as rigid or linear as its straight counterpart, serving as a softer, more elegant option. Alternatively, straight towel rails fit in well with minimalist interiors, due to their German-like, clean-cut style.
Traditional or contemporary?
Colour and shape both make up either a traditional or contemporary aesthetic. Let's see how to distinguish one look from the other:
Traditional: usually sporting a classic chrome finish with a simple ladder design.
Contemporary: boasts a modern finish, such as anthracite or matte white. May also feature a fresh-take on the classic ladder shape.
Smart and modern in its control capabilities, the Ecostrad Fina-E iQ is ironically a perfect example of a towel rail with a traditional look. Excelling in a practical and timeless aesthetic, its classic ladder design and chrome finish makes the Fina-E iQ an ideal choice for those who want to keep it simple.
Modern in both style and substance, the Scala iQ represents cutting-edge contemporary design at its finest. Whilst this heater has a traditional ladder design, its unique large bars serve as a reimagining of that classic towel rail shape. This anthracite version of the Scala iQ is sure to add a burst of modern flare to any 21st century property.
Find the right style for your bathroom today
With such a wide range of colours and finishes available, as well as different design options on offer, you're sure to find an Ecostrad electric towel that perfectly complements your interior design scheme. Fully equipped with smart features and convenient control, these innovative heaters provide much more than just luxury aesthetics, making them the perfect fit for any modern home. Browse our full range today.