Choosing the right electric towel rail for your holiday home
If you're looking for the best electric towel rail for your holiday home, there are a few things to consider. Beyond its primary purpose of drying towels, an electric towel rail should cater to various preferences, providing warmth and convenience for guests without sacrificing efficiency. With innovative heating technology at its helm and containing a wealth of energy-saving features, Ecostrad electric towel rails deliver on all fronts. So, let's explore some essential factors to help you find the right one, covering everything from style to control.
Why choose an Ecostrad electric towel rail?
We've previously explored the most efficient way to heat a holiday home, but when it comes to bathroom heating, things get a little more specific. Across the board, Ecostrad electric towel rails all benefit from superior manufacturing, technology, and a range of features that make them the perfect solution. So, what makes our towel rails a cut above the rest?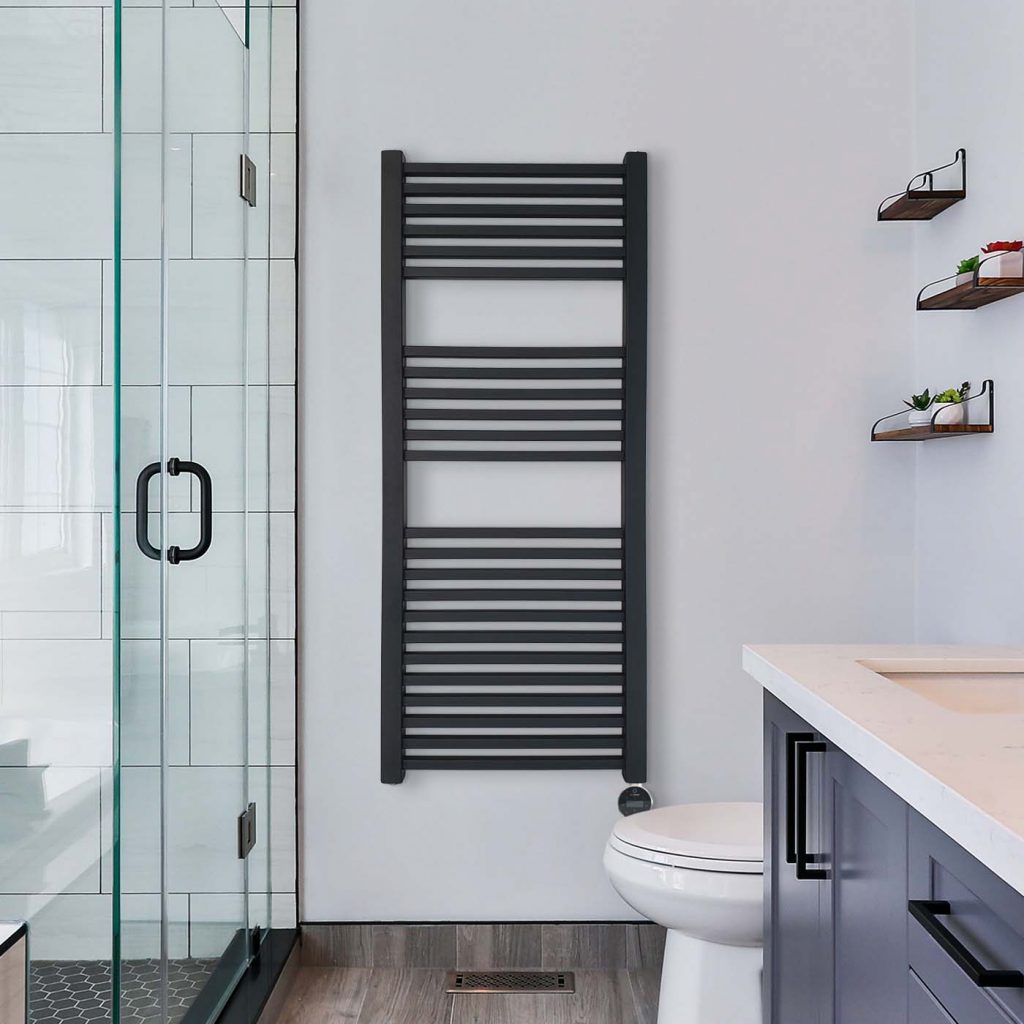 Heat on a room-by-room basis
Various wattages available
Multiple control options
One of the best ways to streamline energy usage is managing your heating on a room-by-room basis. With zero moving parts, Ecostrad electric towel rails act as standalone appliances, able to dry towels and warm rooms without wasting heat on unused areas. Offering a range of wattages and control types, there's a towel rail to suit any space.
Heat-retentive thermal fluid
Superior heat retention
Slow cooling properties
Frost protection
Pre-filled with efficient heating oil, Ecostrad towel rails deliver superior warmth. Their remarkable thermal properties mean they work smarter, not harder, to uphold desired temperatures. In fact, they continue to emit warmth even after powering down, contributing to significant cost reductions. With added anti-freeze properties, our towel rails have that extra bit of safeguarding during extra cold spells, ensuring ultimate efficiency no matter the season.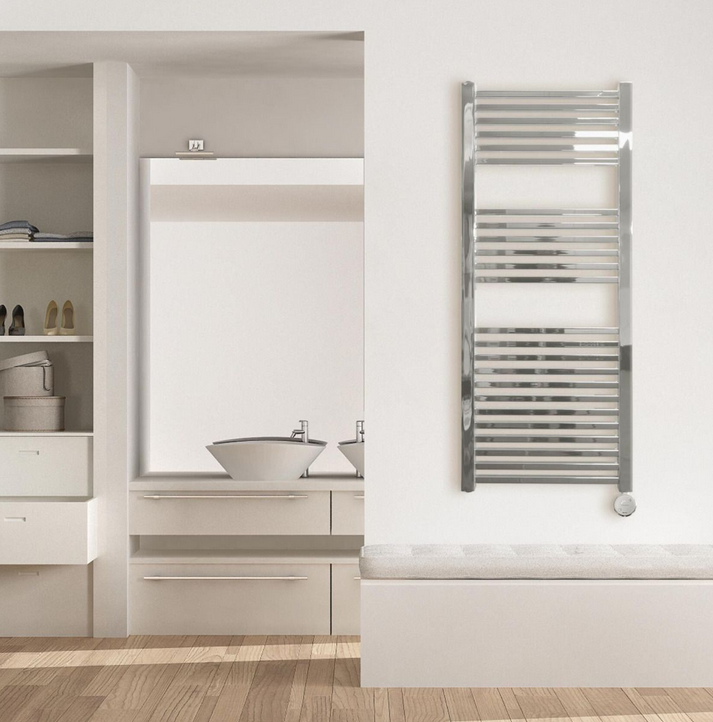 Safety & durability guaranteed
Splashproof IP ratings
Lot 20 compliant
10-year guarantee
Guest wellbeing is paramount, which is why our towel rails are built to comply with the highest standards of EU safety and efficiency. With robust IP ratings ensuring safe installation, there's no need for yearly servicing or replacement parts. Our extended warranties are a reflection of their superior manufacturing, ensuring there's no hidden costs down the line.
WiFi app programming
24/7 remote access
Account sharing available
Maintaining control over your holiday home's heating, even from a distance, is crucial for peace of mind. Our selection of smart electric towel rails allows you to adjust settings remotely, ensuring a cosy welcome for arriving guests or consistent, low-energy heating during off-season.
Choose from a range of stylish designs
When it comes to infusing bathrooms with style and functionality, Ecostrad's selection of towel rails are the answer. Each model brings its own distinct design, ensuring a truly personalised touch for your holiday home. For a more comprehensive look at choosing the right style, check out our previous blog.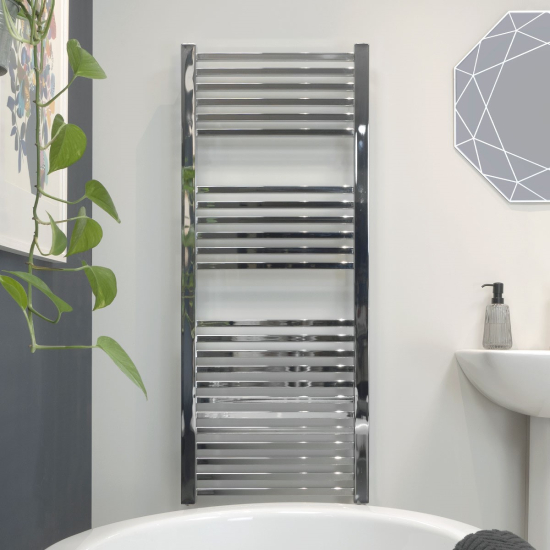 The Ecostrad Cube is the ideal accompaniment to modern interiors. Its clean, straight lines give spaces a chic and minimalist edge. With the choice of sparkling chrome and bold anthracite, tailor the Cube to your desired aesthetic and elevate bathroom heating to new heights.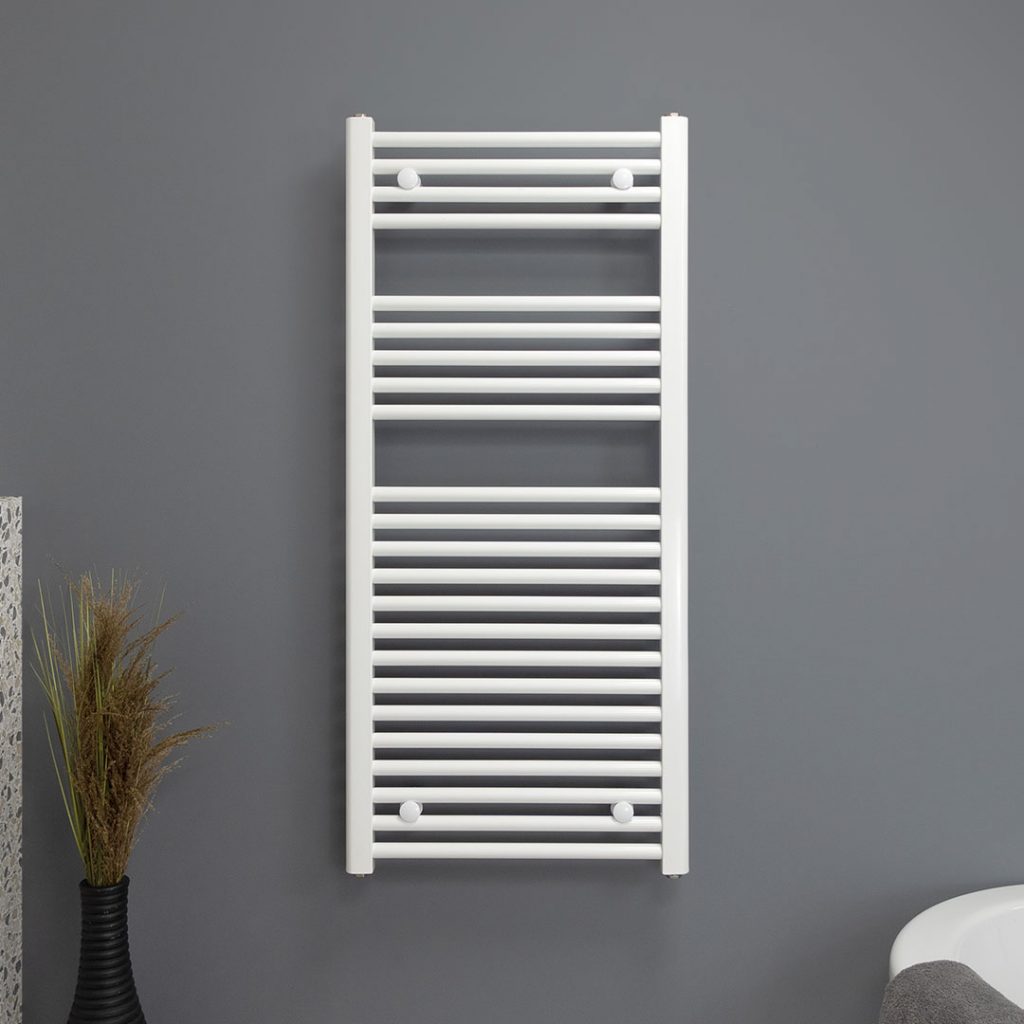 With gently rounded bars and a classic ladder-style design, the Ecostrad Fina-E is elegance personified. Choose from four sleek colourways and a straight or curved finish – the Fina-E offers complete versatility for holiday homes seeking a blend of traditional and contemporary flair.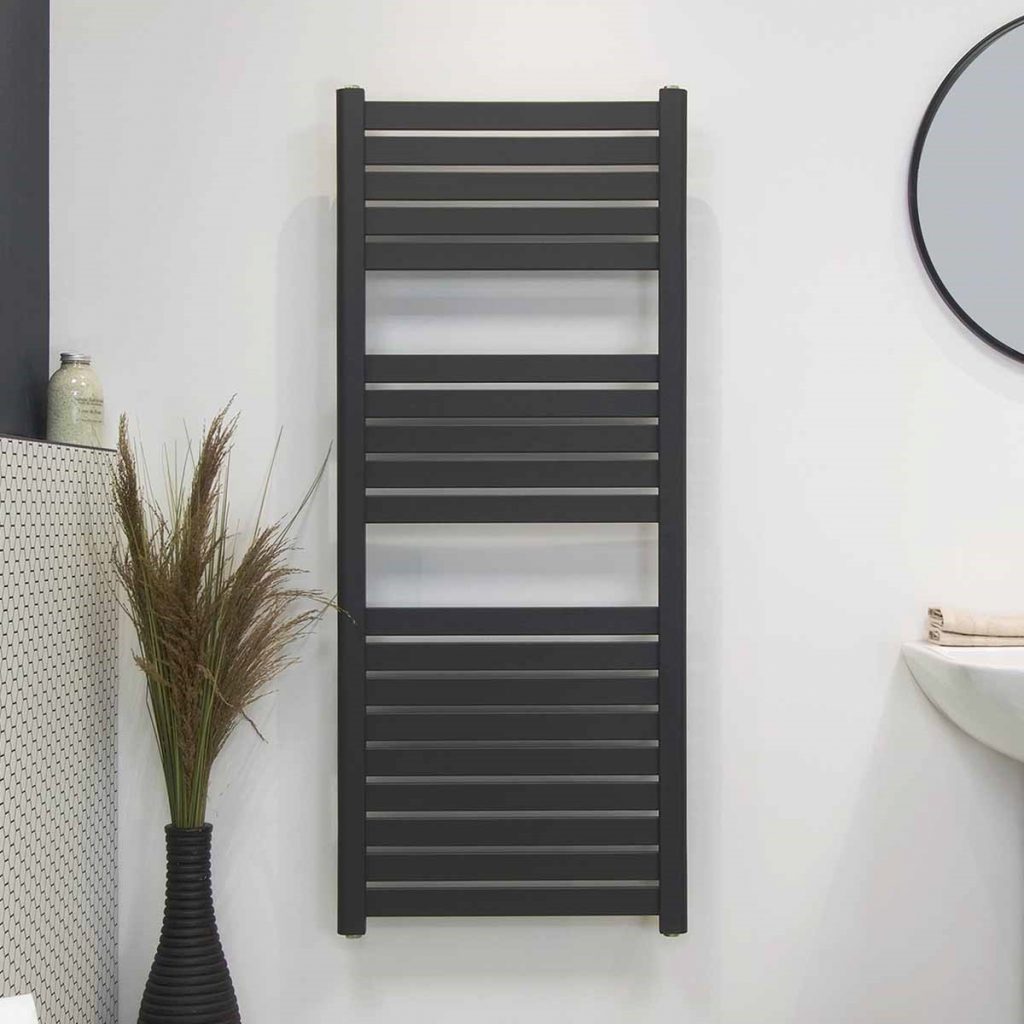 Turn your bathroom heating into a stylish focal point with the Ecostrad Scala. Crafted from robust, heat-conductive material, its modern design and stylish flat bars are guaranteed to make a statement. Choose between two stunning finishes and turn bathrooms into a haven of contemporary luxury.
Choose from three control types
The most important aspect of choosing a towel rail is the level of control that works best for your holiday home. Our range caters to diverse users and programming preferences, spanning from straightforward manual programming to advanced WiFi control. Read on for everything you need to know, but be sure to check out our deep dive for a comprehensive breakdown of each of our towel rail heating elements.
Not every guest is willing to pore over user manuals, so our basic-control towel rails offer a simple solution. With on/off programming, guests can effortlessly dry their towels with a flick of a switch. Ideal for storage and drying purposes, these towel rails are not designed for room heating, making them the perfect option for ad-hoc use in en suites and cloakrooms.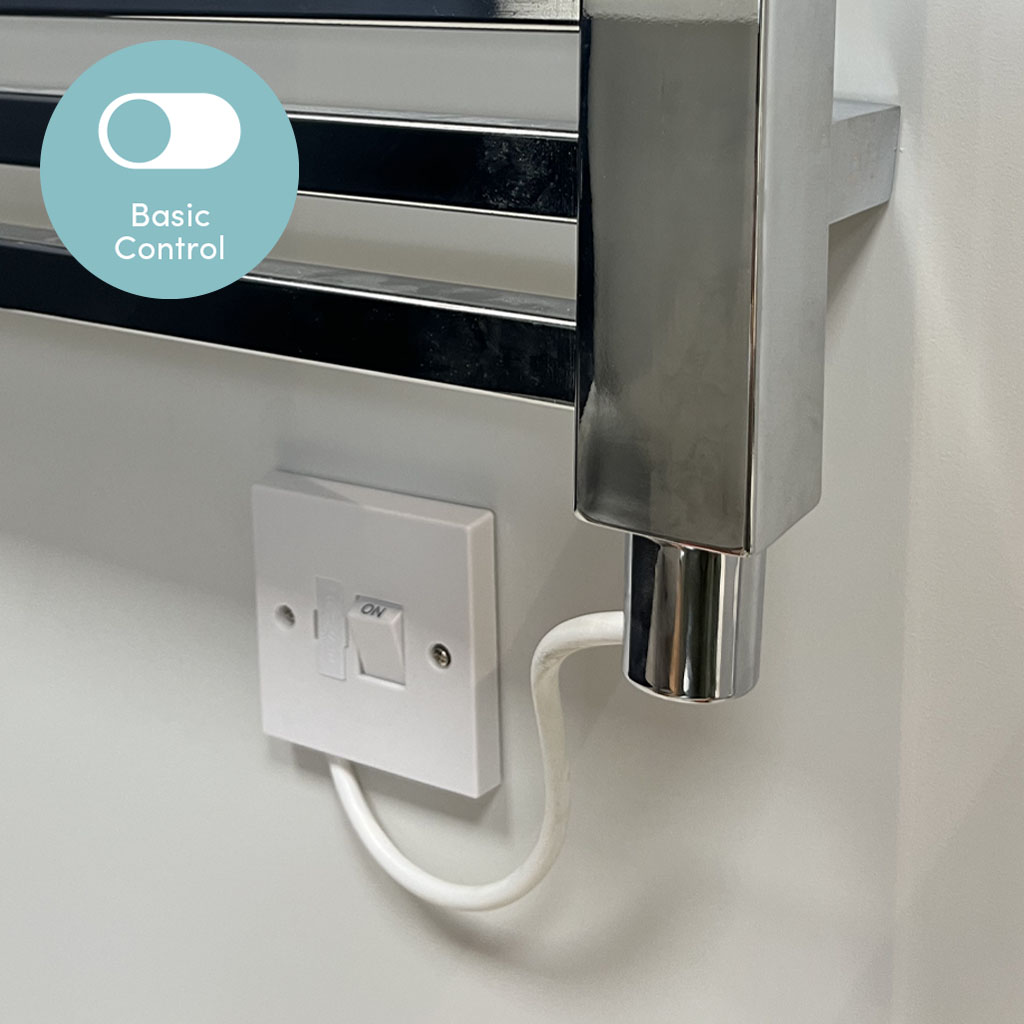 Fitted with the Ecostrad Standard Element, access:
Simple on/off programming – Pairable with a switched fused spur, it can also be connected to a 24/7 programmer or WiFi controller if more extensive programming is preferred down the line.
Single heat level – Heating to a constant internal temperature of 70°C, these towel rails are ideal for ad-hoc towel drying.
Splashproof IP68 rating – With robust splashproof protection, they can be safely installed in zones 2 or 3 of any bathroom.
Enhance guest comfort with our thermostatic towel rails, maximising efficiency with its straightforward digital programming. Offering dual-purpose functionality, our thermostatic models dry towels whilst delivering effective room heating for that extra level of convenience. With an intuitive control panel, guests can enjoy seamless programming with just a few taps.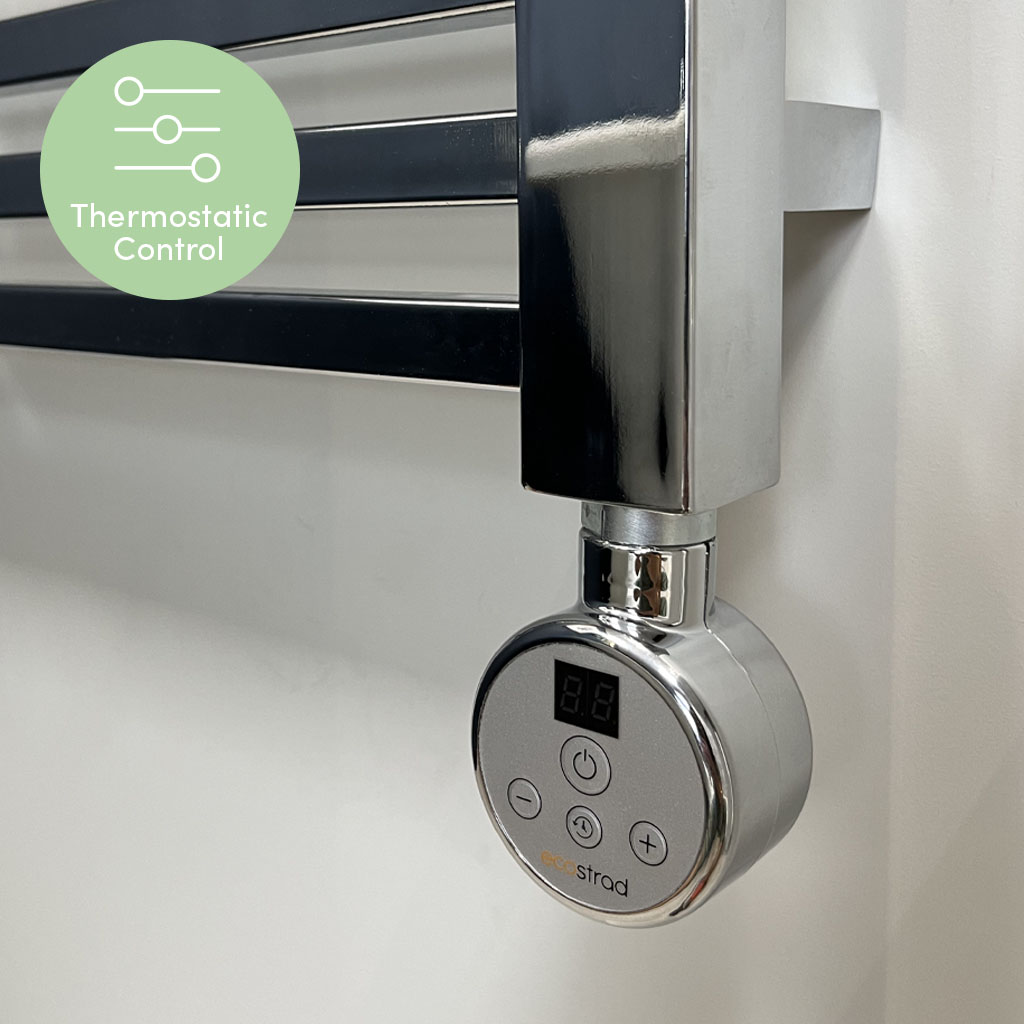 Fitted with the Ecostrad Digital Element, access:
User-friendly manual control – With a clear digital interface and 4-button control panel, guests can effortlessly navigate temperatures and countdown timers.
Precision digital thermostat – For precise temperatures accurate to ±0.5°C, guests can enjoy comfort without fluctuation which is also reflected in steadier running costs.
0–5-hour timer – For set-and-forget heating, the towel rail can be left running between a temperature range of 30-70°C – ideal for towel drying.
Models available: Cube Thermostatic | Fina-E Thermostatic | Scala Thermostatic
If you value unparalleled control from anywhere in the world, our WiFi-controlled towel rails are for you. Compatible with our homegrown heating app Ecostrad Ecosystem, experience instant access from a smartphone and unlock your towel rail's full programming potential. Smart control is guaranteed to help save energy and reduce running costs, giving you the power to make greater savings while providing guests with superior warmth.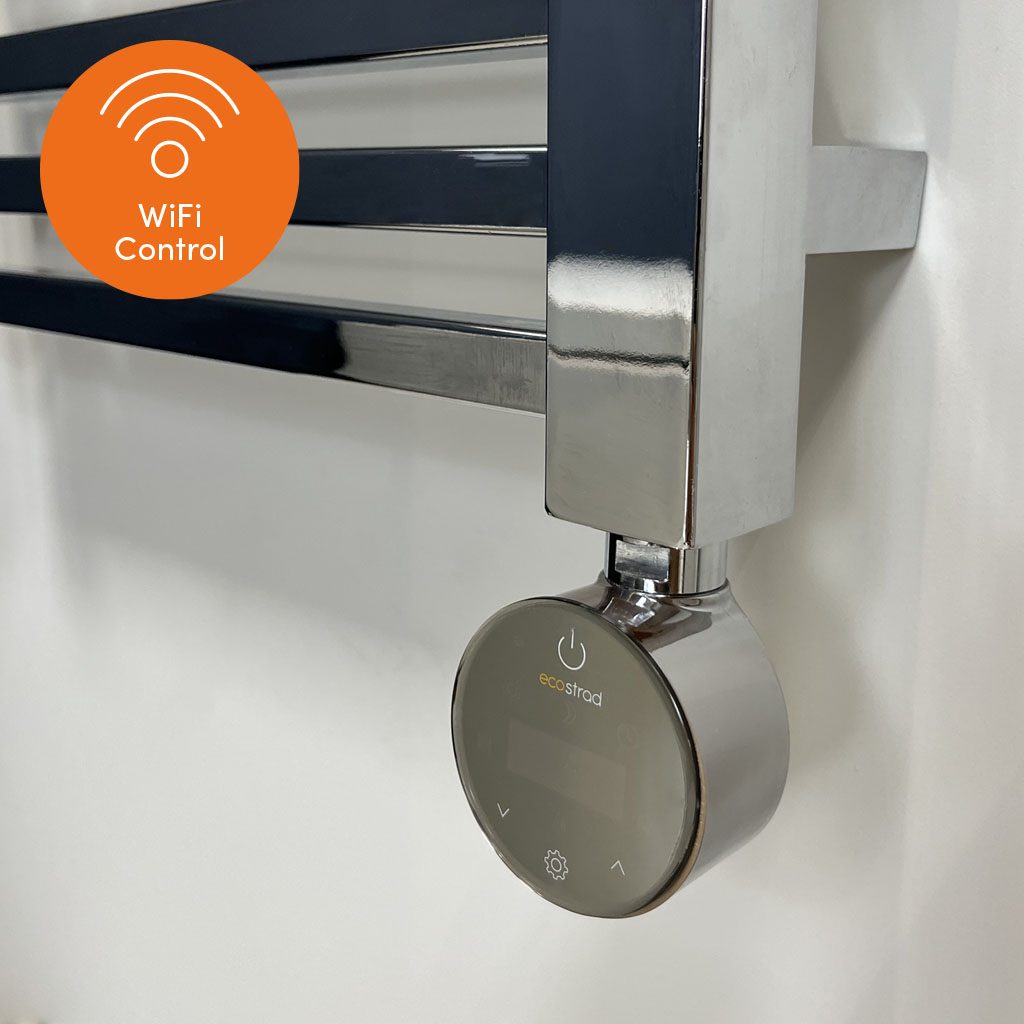 Fitted with the Ecostrad iQ WiFi Element, access:
WiFi app control – Enjoy remote access and full programming from the convenience of a smart device. Guests can still make manual adjustments via the easy-to-use interface, but with Ecosystem, app users have the final say over settings.
24/7 programming – Set up a personalised schedule to match routines and usage patterns, including three low-energy heating modes that are ideal for when the holiday home is vacant.
Open window detection – If a dramatic drop in temperature is detected, the towel rail will switch to an energy-saving mode to avoid excess heat loss.
Adaptive start – Pre-heat the towel rail in line with schedules so bathrooms are optimally heated for the guests' arrival.
Choose Ecostrad for premium bathroom heating
Incorporating Ecostrad's exquisite range of towel rails in your holiday home allows you to create a bathroom experience that is both visually stunning and highly functional. Whether you prefer the timeless charm of the Fina-E, the contemporary convenience of the Cube Thermostatic, or the modern statement of the Scala iQ, elevate your bathroom experience today and make a lasting impression on guests with Ecostrad.
Shop our range at Electric Radiators Direct or find your nearest wholesaler here.