Electric towel rail heating elements explained
At Ecostrad, we manufacture a diverse range of electric towels rails, designed to cater to a wide range of preferences, user patterns and properties. Our pride goes beyond the unique stylings of our towel rails – it's our heating elements that take bathroom heating to the next level. Whether you're seeking effortless control, precise temperature management or the convenience of remote access, our heating elements are designed with the utmost flexibility in mind. So, let's delve into our collection and explore all they have to offer.
Discover the Ecostrad towel rail range
Pre-filled with heat-retentive thermal fluid, Ecostrad towel rails provide residual heating long after switch-off. With stylish finishes, they're guaranteed to provide effortless style and a touch of luxury to any space.
Cube – With slimline square bars and the choice between two striking finishes, the Cube offers a designer edge to the traditional ladder build.
Fina-E – Sporting a classic design with the choice of four sleek colourways, these towel rails make an elegant and classic addition to any bathroom.
Scala – Boasting extra wide flat bars, the Scala adds a touch of modern style that's guaranteed to make a statement.
For a closer look at our Cube and Scala ranges, check out our dedicated blog.
Our heating elements explained
Our electric towel rail heating elements are designed to provide efficient and controlled heat distribution, allowing towels to dry quickly and rooms to be comfortably warmed year-round. With a range of options on offer, including standard, digital and WiFi, they offer various levels of control and energy-saving features to meet the specific needs of a property.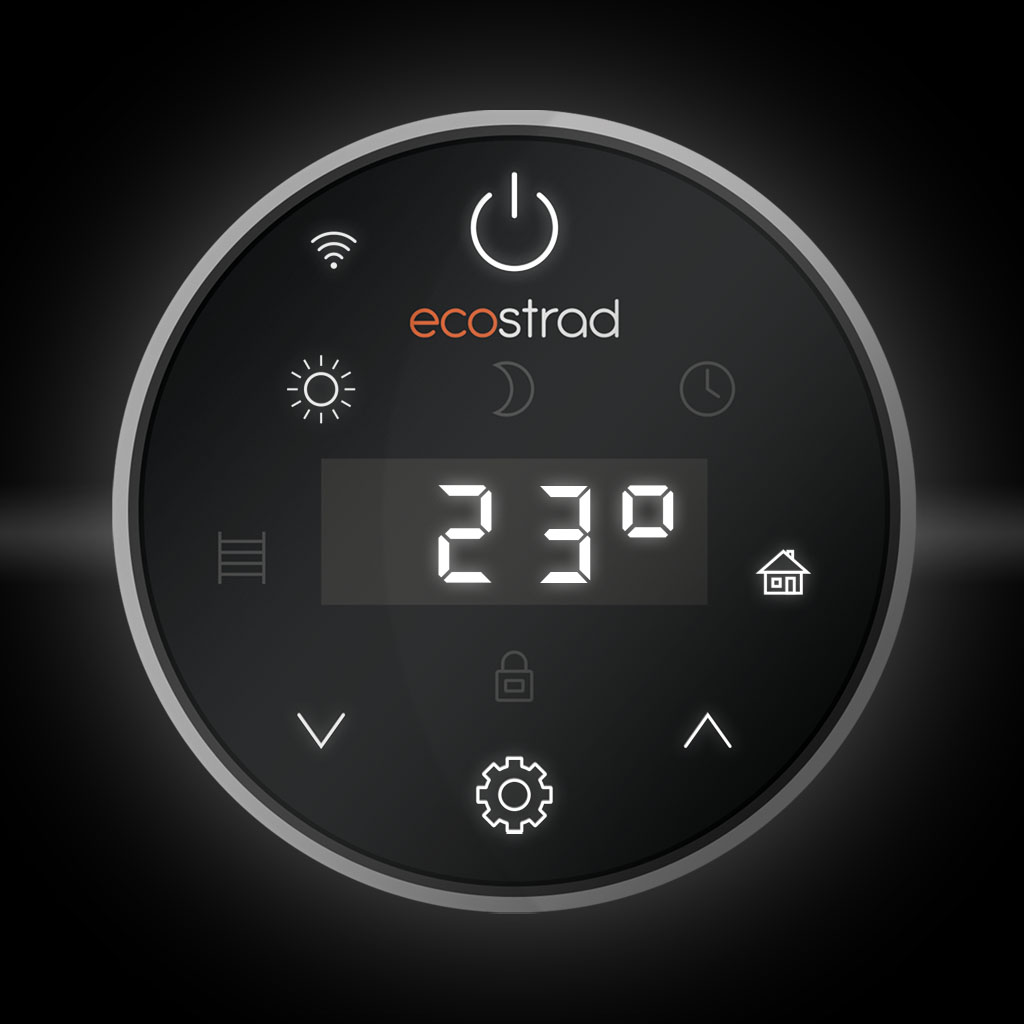 Heating technology – Our towel rails come pre-filled with oil, with the element needing to be fully submerged within the heating medium. It heats up at switch-on and transfers warmth throughout the appliance in a liquid convection cycle. This allows the heat to spread across the towel rail surface and emit out into the room.
Fitting location – Our heating elements are extremely compact, capable of slotting into either of the side struts of the towel rail.
Installation process – Fitting the element and mounting the heater is not DIY-friendly. They must be hardwired to a fused spur by a qualified electrician.
Maintenance needs – Neither the element nor towel rail require mandatory servicing. As they operate solely on electricity and contain no moving parts, the need for regular upkeep is eliminated.
With the basics out of the way, let's take a look at our three heating elements. We'll be diving into their key features and which spaces and applications they're best suited to, so you'll have everything you need to make the right choice for your property.
Ecostrad Standard Element: Simple control & convenient towel drying
Simple and versatile, the Ecostrad Standard Element is the go-to choice for hassle-free towel storage and drying solutions.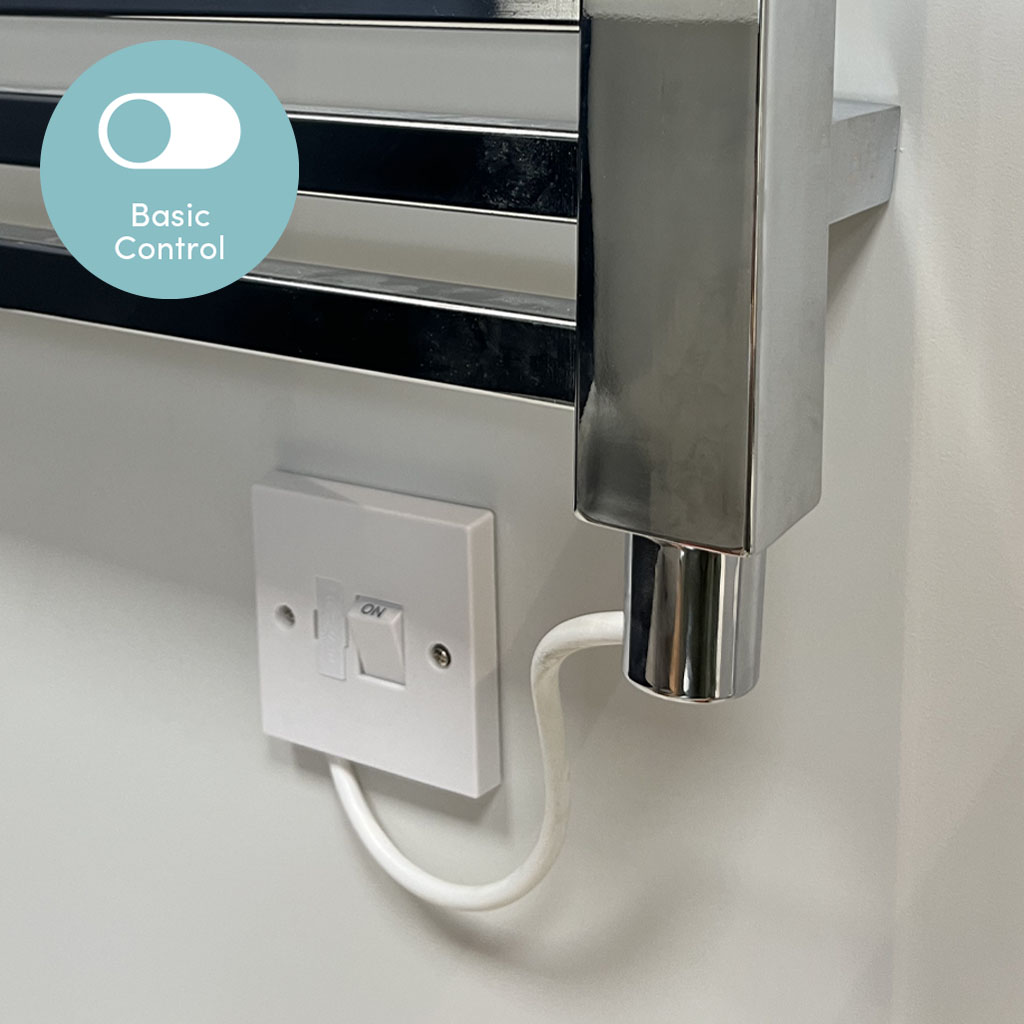 Key features:
Simple on/off operation
Single heat level of 65°C
Splashproof IP68 rating
Suitable for installation in zones 2 & 3
The Ecostrad Standard Element provides the simplest form of control and is designed to maintain a constant level of heat – the perfect choice if uncomplicated programming and ad-hoc towel drying is required. For simple on/off functionality, we recommend pairing it with an external controller like a switched fused spur, but it's also compatible with 24/7 programmers and WiFi controllers if a space or user requires it down the line, making this a flexible option for a variety of properties.
Best suited for:
En suites, cloakrooms and other areas that are used more sporadically than main living spaces.
As the standard element is designed for towel drying rather than room heating, it's the ideal solution for drying towels on an ad-hoc basis.
Ecostrad Digital Element: Thermostatic control with enhanced features
Take control of bathroom heating with the Ecostrad Digital Element, designed to offer precise temperature management and effortless manual programming.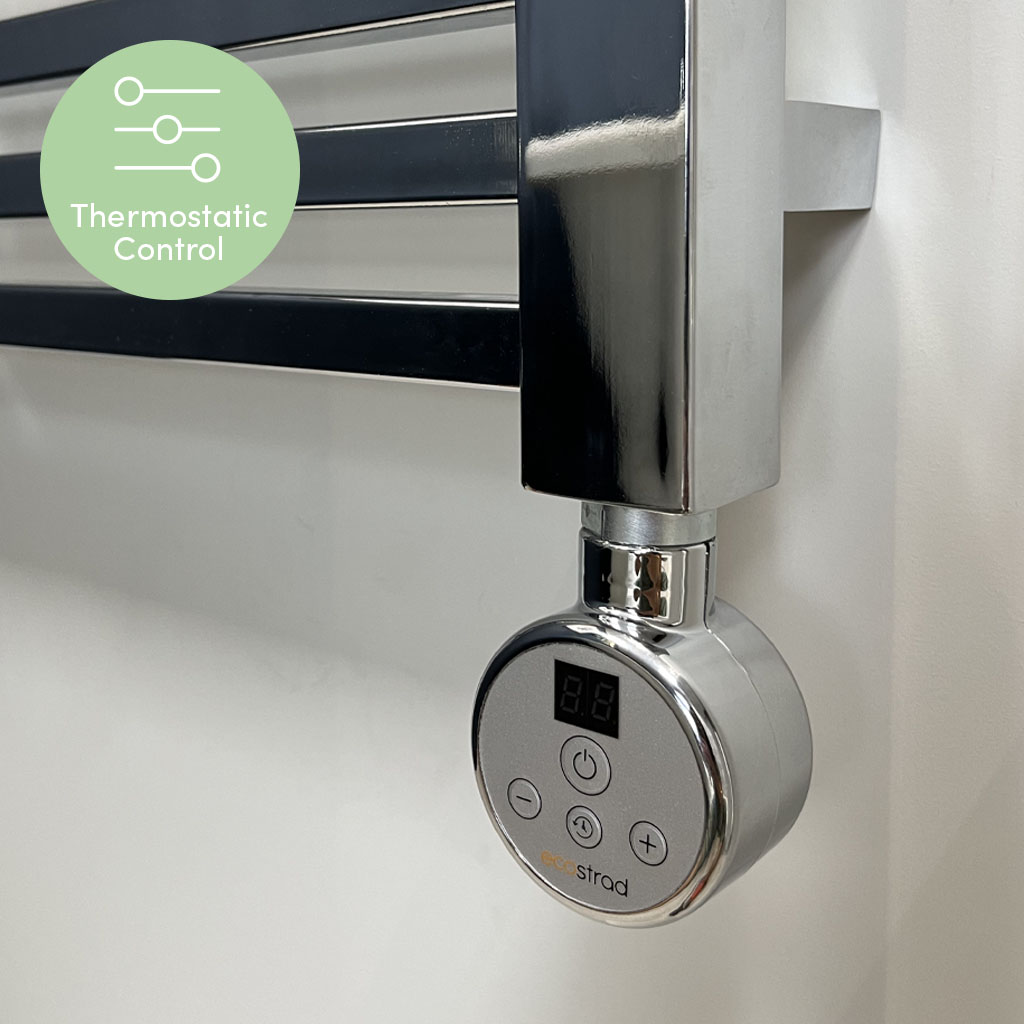 Key features:
User-friendly digital programming
Customisable temperatures between 10-35°C
Precision digital thermostat
Suitable for installation in zone 1
Experience seamless manual control with the Ecostrad Digital Element, providing an elevated level of programming through its intuitive interface. Fitted with a precision thermostat, temperatures are maintained accurately within ±0.5ºC, ensuring optimal comfort and no excess energy waste. Featuring four pushbuttons and a clear LCD display, the element allows for seamless temperature management and a countdown timer customisable between 0-5 hours. The user-friendly digital interface makes it easy to navigate and set preferences, ensuring the perfect balance of functionality and ease of use.
Best suited for:
Holiday lets – guests can dry their towels without the need for extensive programming, enhancing their overall experience.
Rental properties & other domestic spaces – the element provides reliable heating for various residential settings that don't require smart control.
Ecostrad iQ Element: WiFi control for ultimate flexibility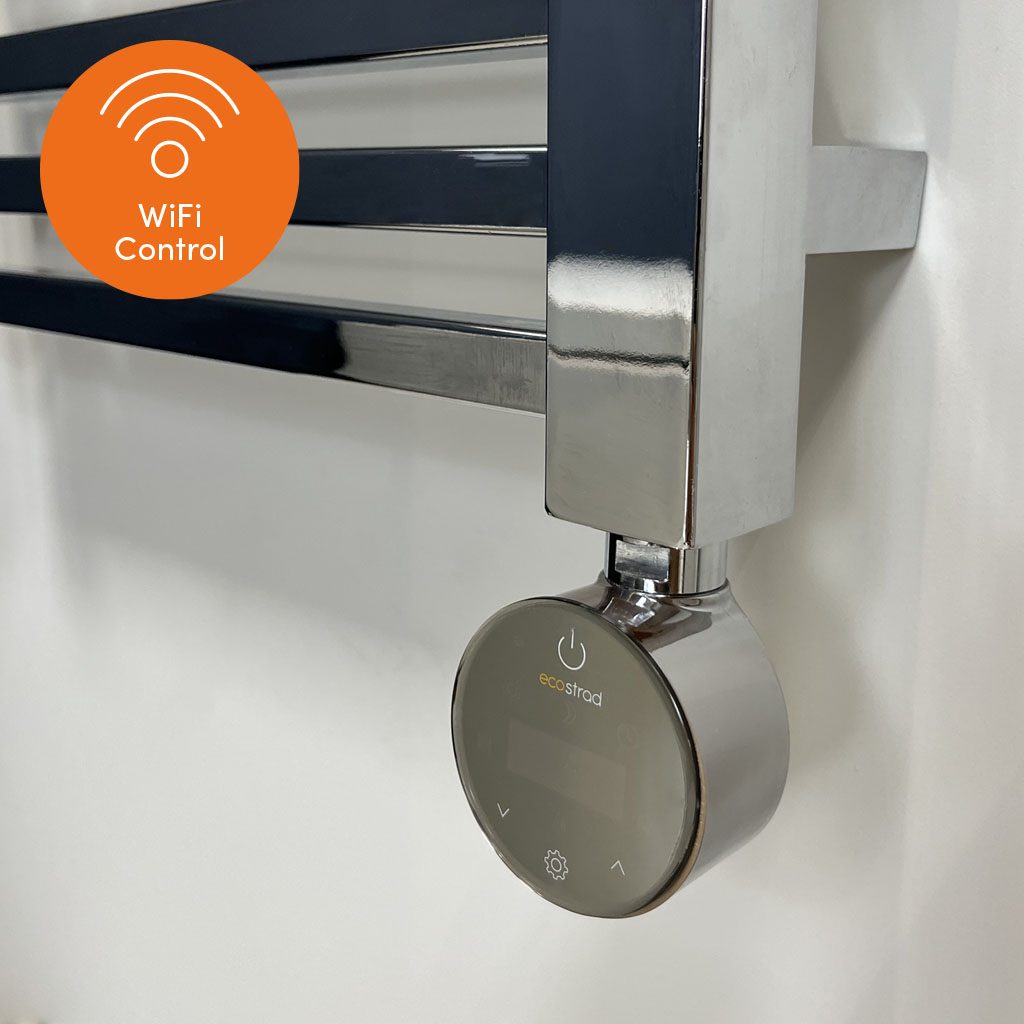 Key features:
WiFi control via Ecosystem app
24/7 programming & 0-8-hour timer
3 heating modes & energy-saving features
Suitable for installation in zone 1
For unrivalled control, the Ecostrad iQ WiFi Element is the first of its kind to offer full WiFi programming, offering users the most sophisticated approach to heat management yet. Compatible with our homegrown app, Ecosystem, settings can be managed remotely 24/7, allowing for distance control from anywhere in the world. With four sophisticated heating modes, 24/7 programming, and a range of energy-saving features, this WiFi element puts bathroom heating at the forefront of innovation.
While it offers a much more intuitive approach to programming via app control, the element itself still allows for easy manual adjustment when ad-hoc programming is preferred. As the Ecostrad iQ WiFi Element is also used with our designer electric radiators, check out this blog for a full breakdown of the energy-saving features this innovative product has to offer.
Best suited for:
Used as part of a wider system – manage all your Ecostrad WiFi heaters via the Ecosystem app.
Landlords and developers who need remote access to multiple properties.
Rental properties, student accommodation and holiday lets that may remain vacant for extended periods.
Domestic and commercial spaces alike, providing advanced heating control and efficiency.
Luxury bathroom heating without limits
With contemporary styling, efficient heating technology and innovative programming possibilities, out electric towel rails and their heating elements are guaranteed to transform a space and keep running costs as low as possible. Enjoy extended warranties, water protection and zero maintenance – Ecostrad heating elements and towel rails are luxury bathroom heating guaranteed.
Shop our full range at Electric Radiators Direct or find your local stockist here.