Dry thermal vs thermal fluid radiators: which is best?
In the world of electric heating, the options can be overwhelming. Whether you're a landlord seeking a dependable choice for your rental property, or a tradesperson on the lookout for your next project, making the right choice is essential. Efficient and highly controllable, dry thermal and thermal fluid radiators offer many of the same advantages – but deciding between the two ultimately boils down to several factors. So, let's delve into what sets them apart, their pros and cons, and find out which electric radiator is right for you.
Dry thermal electric radiators
Adaptable and responsive, dry thermal radiators use ceramic or aluminium elements to deliver swift and efficient heating across a range of spaces. While aluminium elements excel at rapid heating, radiators equipped with ceramic bricks take heat absorption to another level. These high-density blocks boast exceptional thermal properties, able to retain heat for extended periods – same comfort, less waste.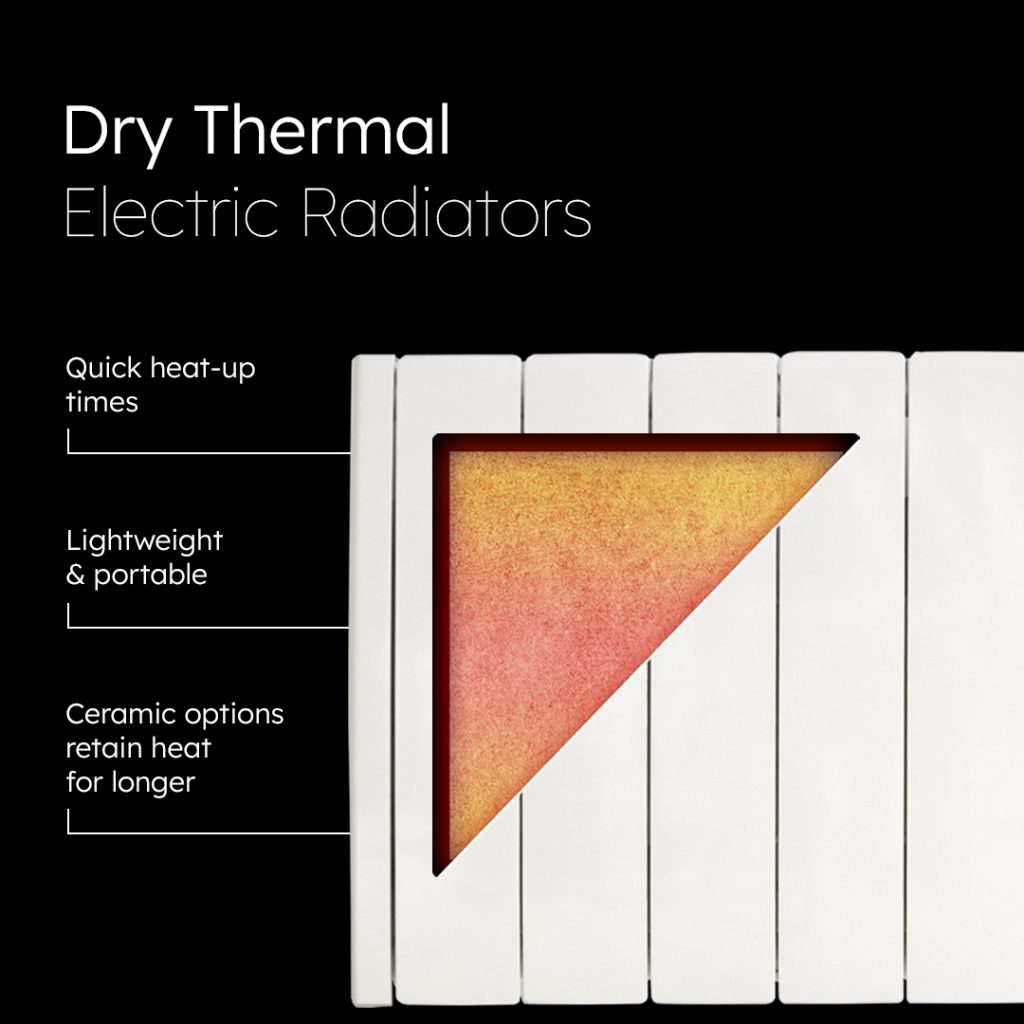 Pros of dry thermal radiators
Responsive warmth
Aluminium radiators become noticeably warm within a minute of switch-on, while ceramic electric radiators reach their maximum temperature within just 10 minutes. This makes them an excellent choice for situations where ad-hoc heating is required, such as in holiday homes that don't follow a fixed heating schedule.
Easy, flexible installation
Installation is a hassle-free process. With all fixtures and fittings included, they can be mounted DIY-style without the need for technical expertise. Plus, many models offer radiator feet as an optional accessory, enhancing portability and allowing users to adjust their placement as needed. 
50% radiant heat
Ceramic radiators emit a higher proportion of radiant heat compared to the usual 30% of other radiator types. Infrared radiation is a natural, robust form of warmth, able to warm people directly rather than the air. So, if a room struggles with draughts or cold spots, a ceramic radiator results in very little waste.
Recessed control panel
With the heating element integrated into the radiator core, the control interface is seamlessly built into the unit itself. These radiators feature discreet and user-friendly control panels equipped with either push-button or touchscreen controls, making manual adjustments effortless. 
Cons of dry thermal radiators
Lack of design versatility
In order to maximise heat distribution, the placement of the heating element is fixed. This means that function must take priority over style. However, their minimalist, compact builds are designed to integrate seamlessly with both modern and period properties, resulting in a discreet, space-saving solution for your space.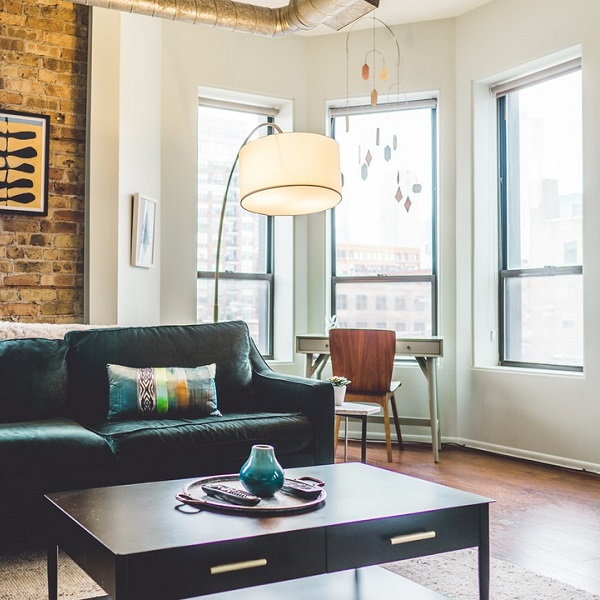 Ideal for providing swift and efficient heating in small to medium-sized spaces, dry thermal radiators offer versatility that suits a wide range of properties. Their typically higher heat output makes them particularly effective in rooms with high ceilings or hard-to-heat interiors, as they can generate and distribute intense warmth that lasts. Additionally, if a property demands heating on a flexible, as-needed basis, ceramic radiators stand out as an excellent choice due to their portability and rapid heat-up times.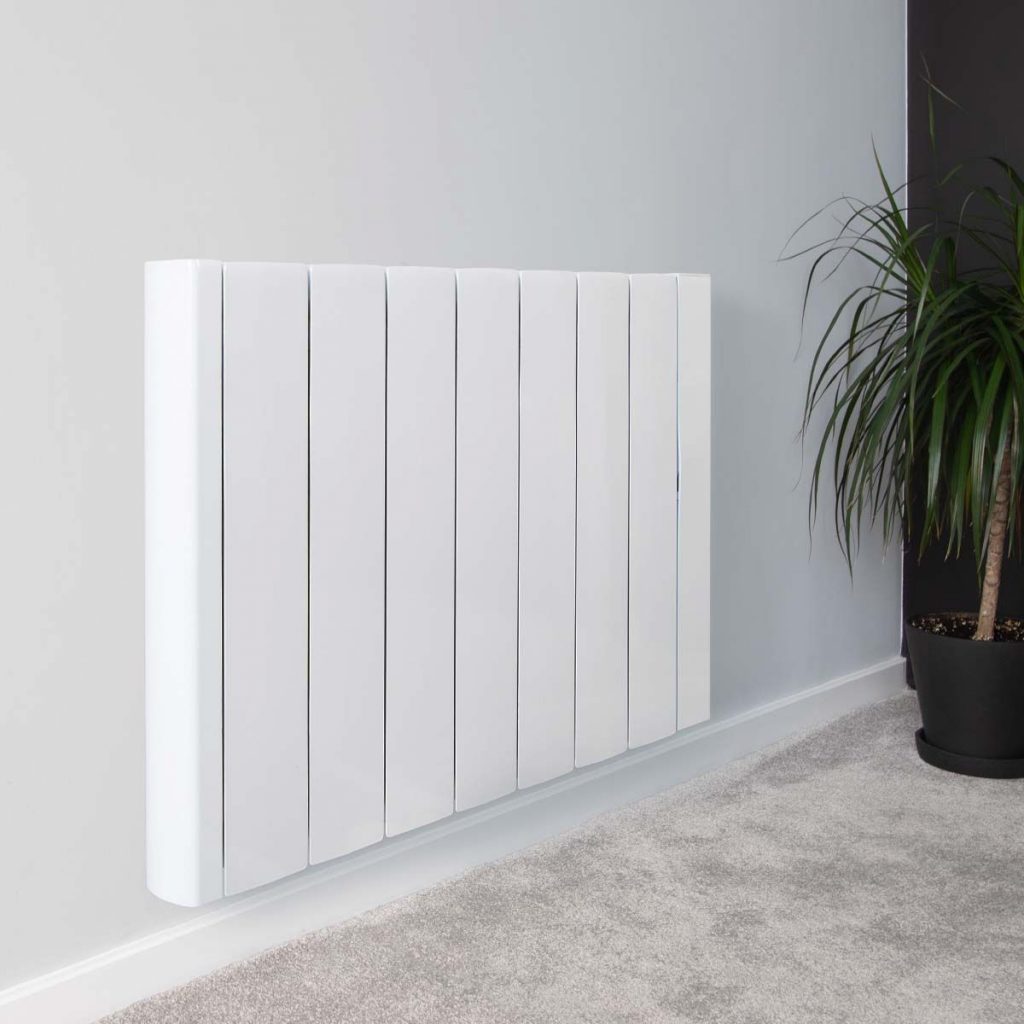 Heat-retentive ceramic core
Classic white or bold black colourways
DIY-friendly plug & go installation
Integrated WiFi control
Motion sensor technology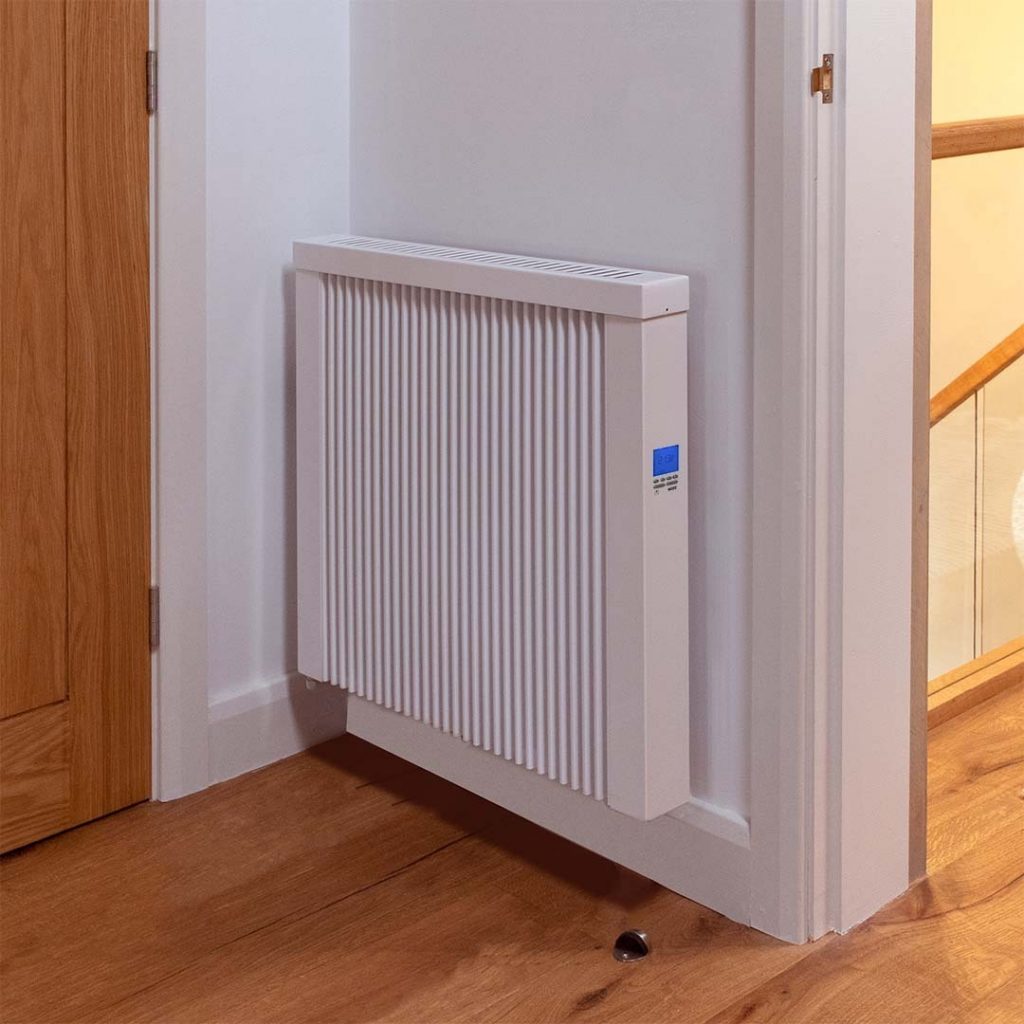 Horizontal & vertical styles
DIY-friendly plug & go installation
Intuitive push-button control panel
24/7 programming
Thermal fluid electric radiators
Thermal fluid electric radiators combine a heating element and thermodynamic fluid to create lasting warmth. The heating element warms the fluid as it circulates, releasing heat into the room. This cycle maintains a consistent temperature, providing enduring and efficient heating without the need for constant operation.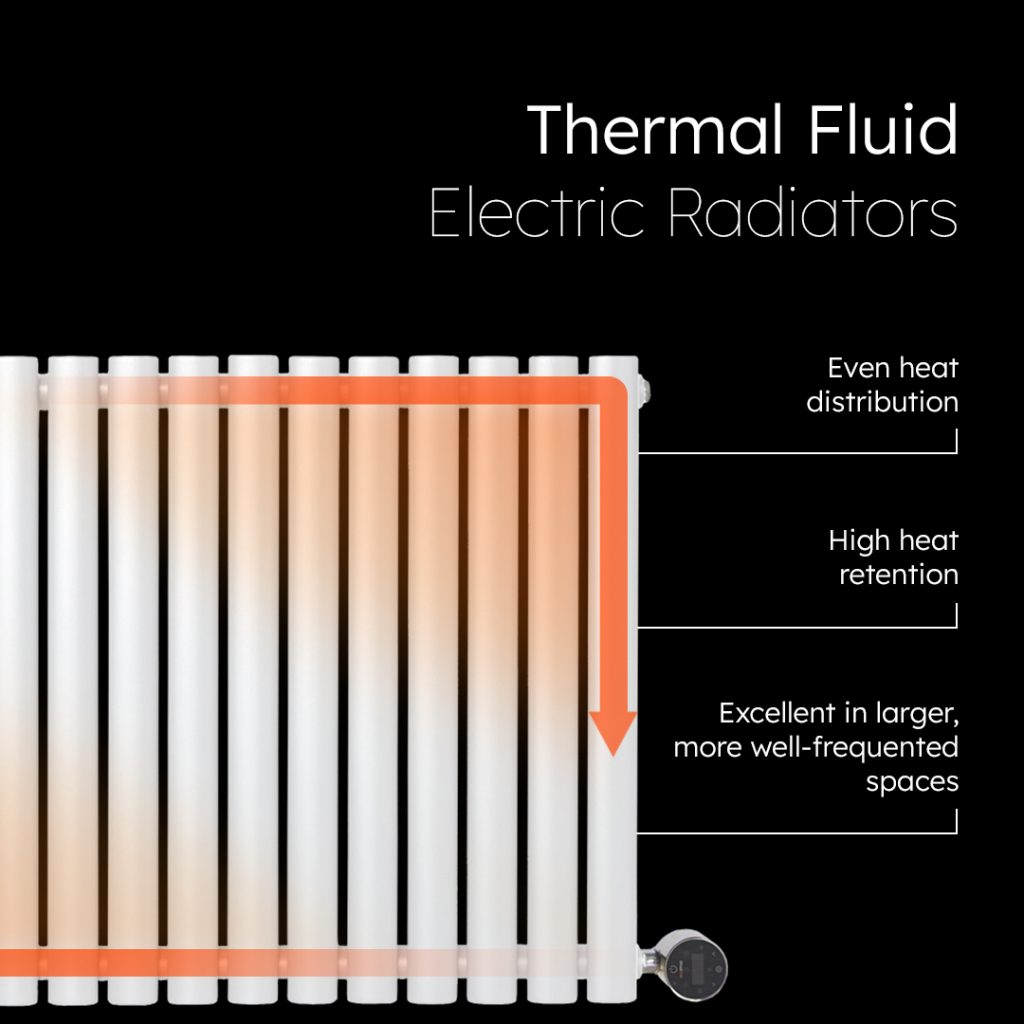 Pros of thermal fluid radiators
Even, long-lasting heat
The heating process results in the thermal fluid spreading evenly across the radiator and emitting out into the room, eliminating the common temperature fluctuations seen in other heating systems. 
Suitable for most room types
Whether it's a small bedroom, a spacious living room, or an irregularly shaped space, thermal fluid radiators effectively heat these areas. Their flexibility extends to both residential and commercial settings, and their durable IP ratings also make them suitable for installation in bathrooms. 
Versatile designs
Unlike dry thermal radiators that must prioritise function over aesthetics, thermal fluid radiators offer a wide array of stylish builds. While some on the market have been converted from central heating and fitted with a new element, our range has been built from the ground up to utilise the full potential of electric, ensuring optimal design and performance.
Cons of thermal fluid radiators
Slower heat-up times
In order for the heated liquid to travel evenly throughout the radiator, it can take up to half an hour before the radiator feels warm all over. However, this slower warm-up process gives way to slower cooldowns – they can retain heat for longer periods than dry thermal radiators, providing sustained comfort using minimal energy consumption.
Hardwired installation
Due to their weight, thermal fluid radiators often require two people for wall mounting. They also need hardwiring to the mains by a qualified electrician to ensure proper installation of the heating element. On the flipside, this ensures a fully integrated appliance, and it's a must if you're installing multiple electric heaters in a property.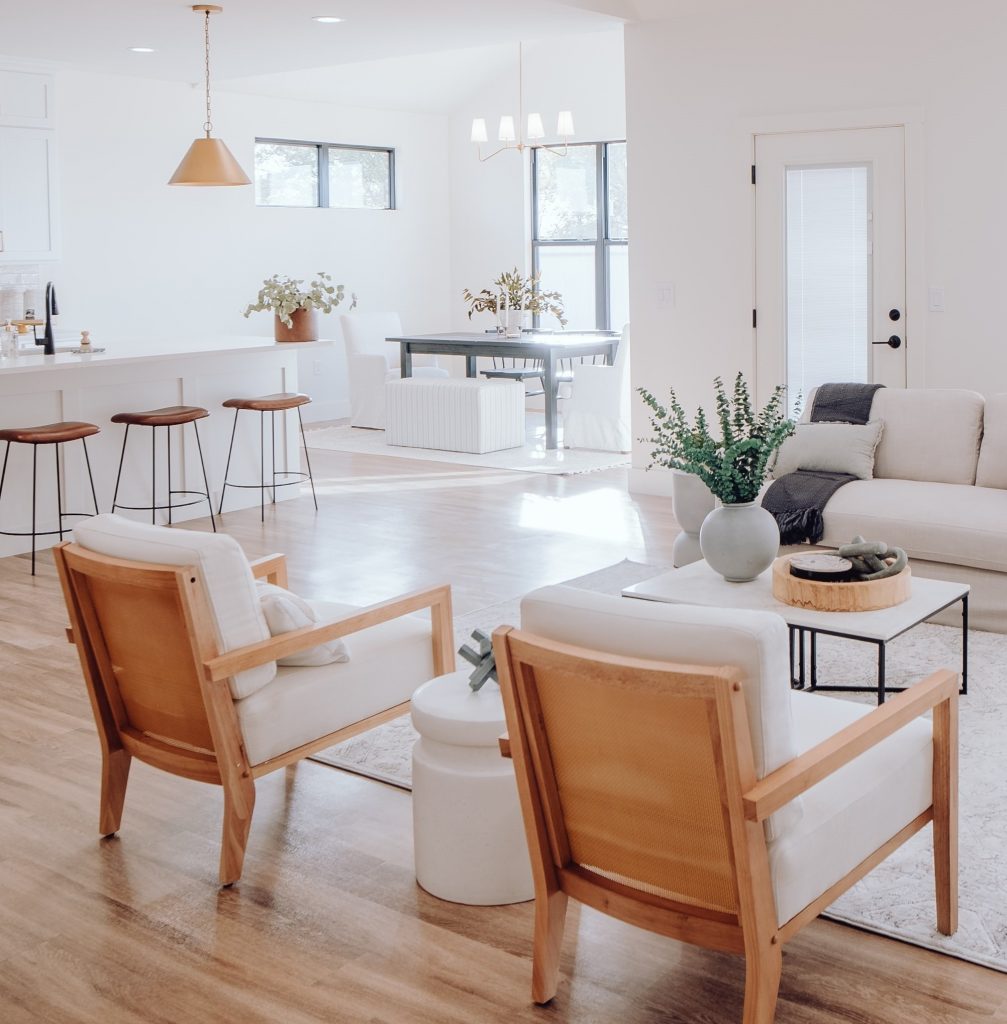 Thermal fluid radiators shine when it comes to maintaining a consistent temperature for extended periods. They are best suited in medium to large rooms where their slow cooldowns ensure lasting warmth even after they've stopped drawing power. Whether you're in an office setting or a residential property, these radiators are primed to deliver all-day warmth, helping to keep costs down without sacrificing comfort.
We recommend: Ecostrad designer range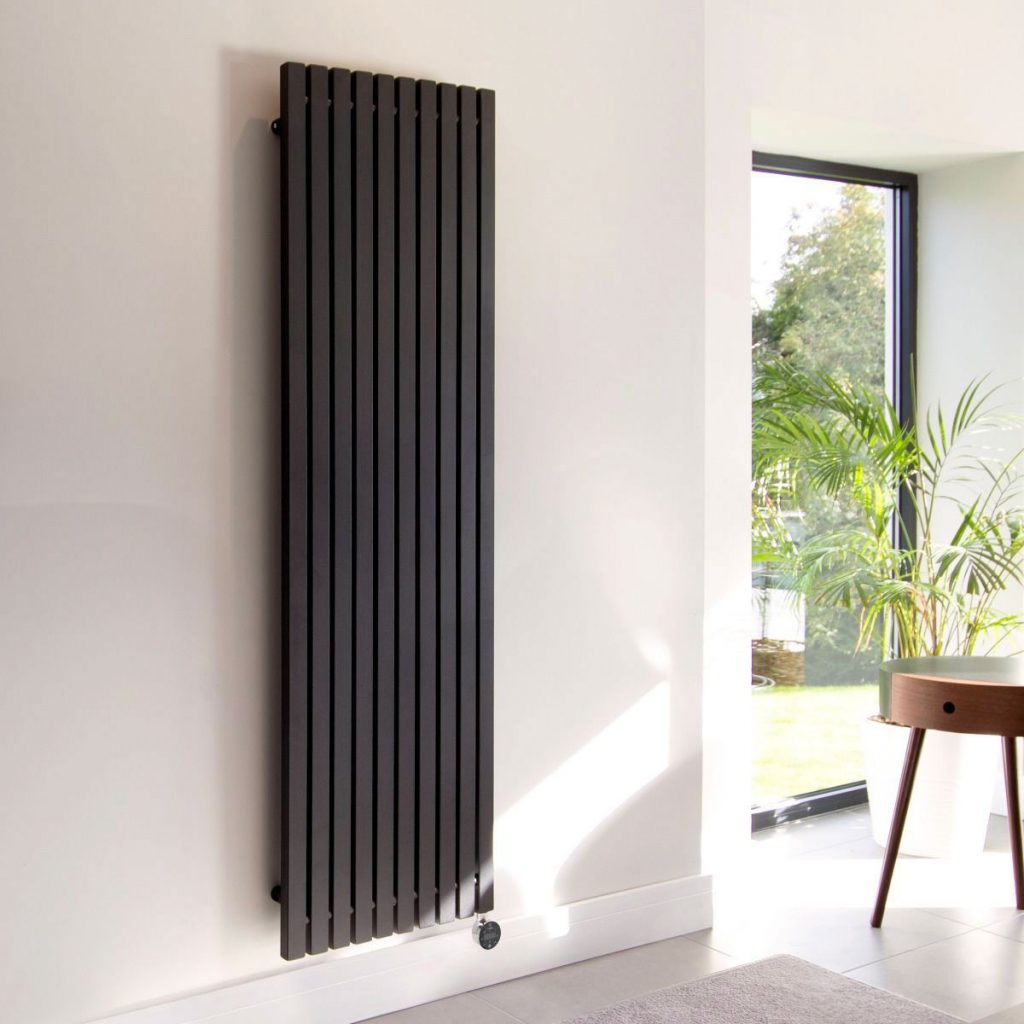 Slimline rectangular bars 
White & black finishes 
Horizontal & vertical orientations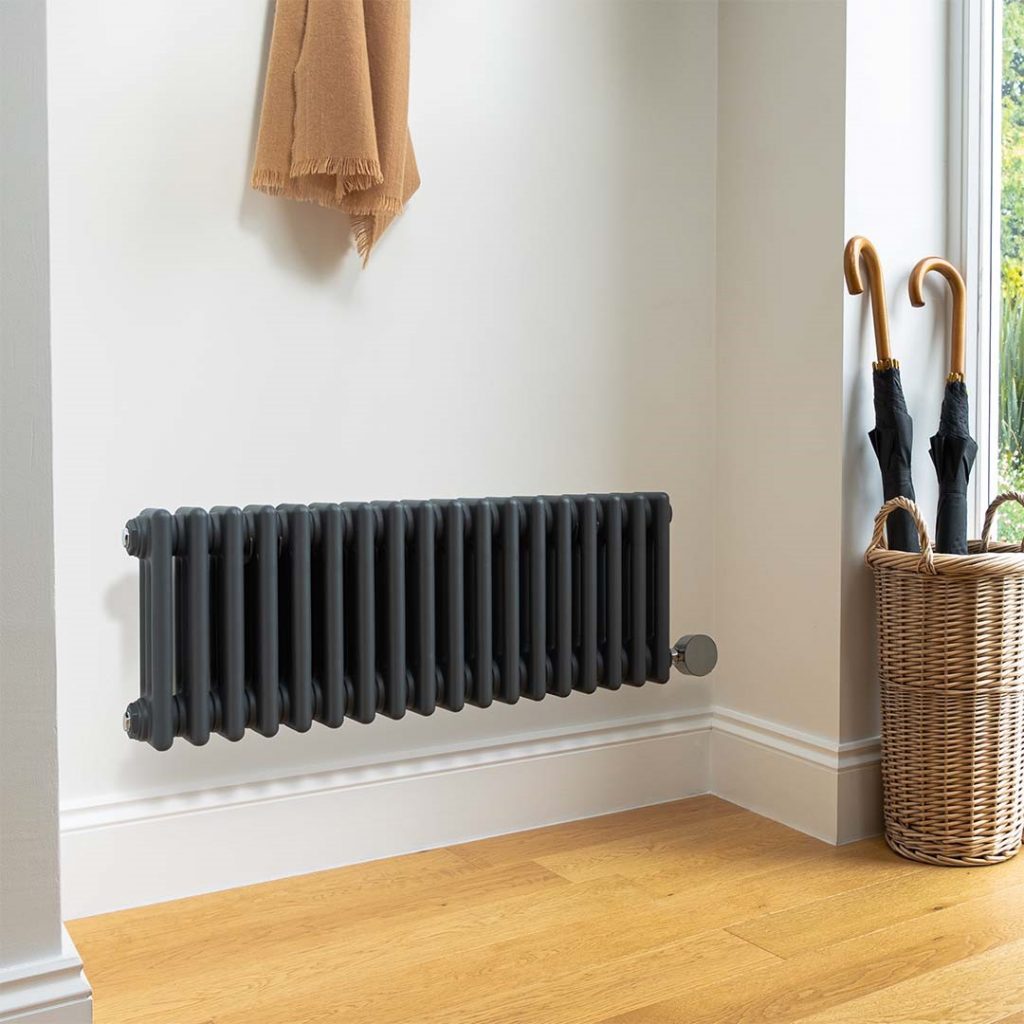 Double & triple column build 
White & anthracite finishes 
Horizontal & low styles available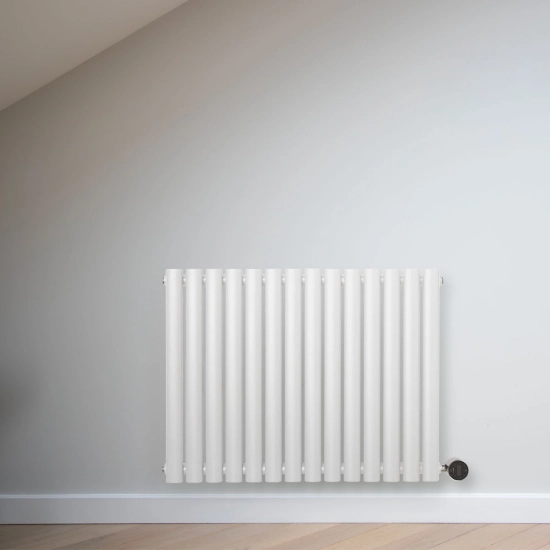 Sophisticated oval-bar design 
White & anthracite finishes 
Single & double panels available 
Dry thermal vs thermal fluid radiators
| | | |
| --- | --- | --- |
|   | Dry thermal radiators | Thermal fluid radiators |
| DIY-friendly installation | ✓ | ✗ |
| Low maintenance | ✓ | ✓ |
| Sophisticated programming | ✓ | ✓ |
| Suitable for ad-hoc heating | ✓ | ✗ |
| Energy-efficient warmth | ✓ | ✓ |
| Diverse aesthetics | ✗ | ✓ |
| Suitable for bathrooms | ✗ | ✓ |
What are their similarities?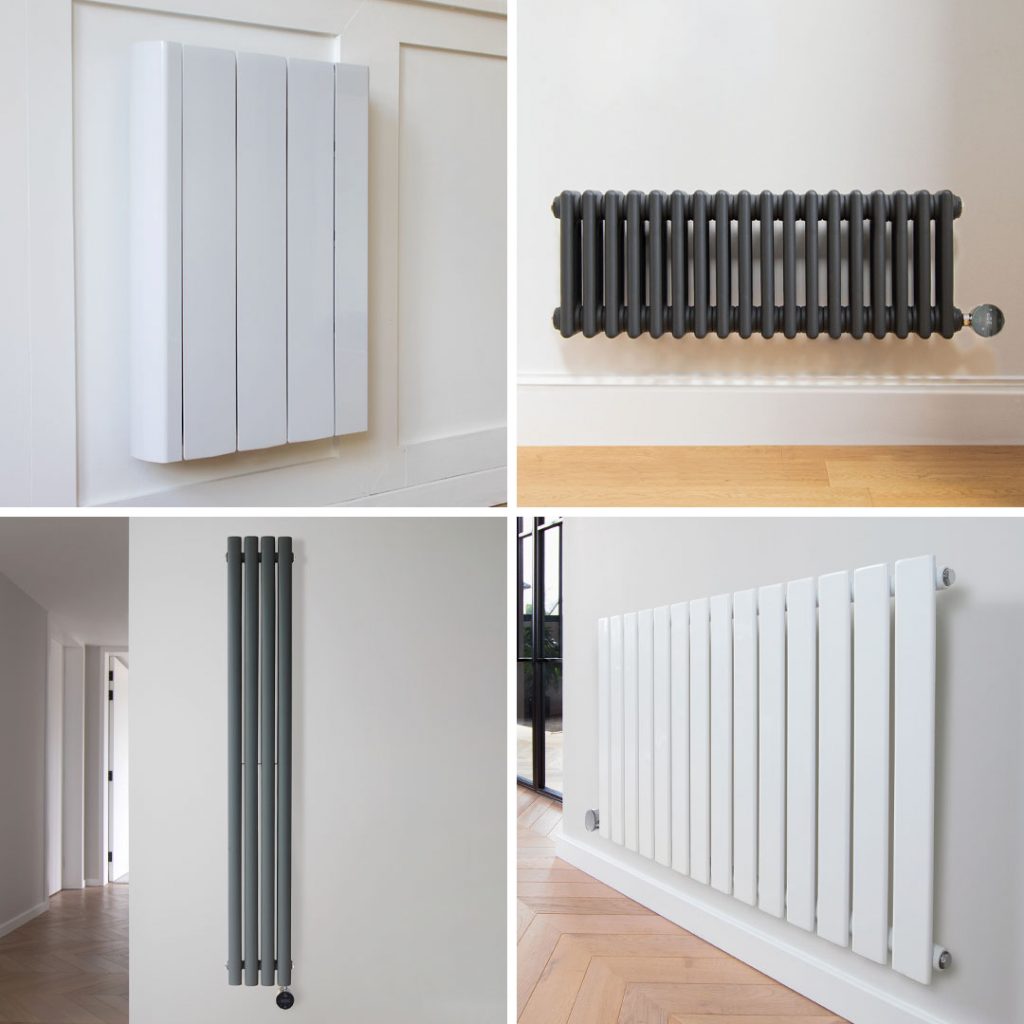 While we've delved into their distinctions, they also share a host of common features that contribute to their exceptional performance. So, whichever option best suits your property or project, you can count on cutting-edge control and efficiency: 
Precision thermostats – Ensures accurate temperature control and regulation.
Lot 20 compliant – Adheres to requirements set out by EU regulations, excelling in performance and efficiency.
Smart control – Offering flexible control options, from simple manual programming to seamless app and smart speaker integration.
Pairable with renewable energy – Carbon neutral when paired with green energy sources or tariffs.
Low maintenance – If your radiator is installed in a rental property, it will need an electrical safety test every five years alongside your other electrical items. Other than that, a simple clean to keep the unit dust-free is all the upkeep it needs.
Ecostrad electric radiators: excellence guaranteed
The beauty of electric radiators lies in their flexibility, allowing you to tailor your heating solutions to the unique requirements of each room. Whether you're aiming to warm up an open-plan office space or seeking supplementary heating for a residential property, you might discover that a combination of both types works best. Rest assured, our selection of smart, German and designer electric radiators ensure that excellence is always within reach. So, shop our range at Electric Radiators Direct or find your nearest wholesaler here.